Quotes from Women, Power & Peace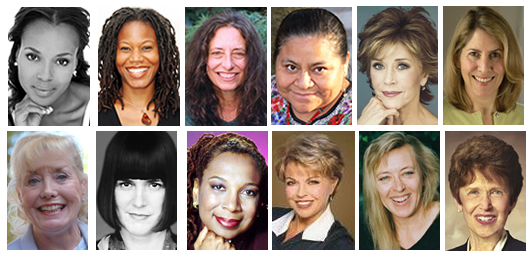 Note from Marianne Schnall, founder of Feminist.com and Women, Power & Peace Media Partner: When I was writing my various articles on the Women, Power & Peace conference, I listened to my own tapes of the conference and transcribed some quotes that stood out for me to potentially use in my articles. When I was done, I realized they evoked some of the inspiring spirit of the conference, and I thought it would be wonderful to share them. So here is my personal collection of quotes - by no means is this a comprehensive accounting of all the speakers or all that went on at this amazing event, and I encourage you to purchase the CD and DVD recordings of this life-changing conference by clicking here.
---
Feminist.com was proud to be a media partner of the Women, Power & Peace Conference, which took place on September 14-16, 2007, organized by Omega Institute, V-Day, and the Nobel Women's Institute. For more about the conference theme and a complete list of all the featured speakers at Women, Power & Peace, click here. To order the DVDs or audio recordings of the speeches from this event or to purchase recordings from past Women and Power conferences [2003-2005], please click here.
Women, Power & Peace Sponsors:
The Women's Institute at Omega, a dynamic new component of Omega, is dedicated to empowering women around the world. It has grown out of the momentum created by the annual Women and Power conferences that Omega has presented in partnership with V-Day since 2002. It seeks to sustain throughout the year the community and inspiration generated at the conferences through trainings, workshops, and scholarship programs. www.eomega.org
V-Day is a global movement to stop violence against women and girls. Founded by Eve Ensler, V-Day is a catalyst that promotes creative events to increase awareness, raise money, and revitalize the spirit of existing anti-violence organizations. V-Day generates broader attention for the fight to stop violence against women and girls, including rape, battery, incest, female genital mutilation (FGM), and sexual slavery. To learn about V-Day's exciting and important work, visit www.vday.org.
The Nobel Women's Initiative The Nobel Women's Initiative was established in 2006 by sister Nobel Peace Prize laureates Shirin Ebadi, Wangari Maathai, Rigoberta Menchú Tum, Betty Williams, and Jody Williams. These women—representing North and South America, Europe, the Middle East, and Africa-bring together their extraordinary experiences in a united effort for peace with justice and equality. Their goal is to meaningfully contribute to building peace by working together with women around the world. Please visit them online to learn more about their work. www.nobelwomensinitiative.org.