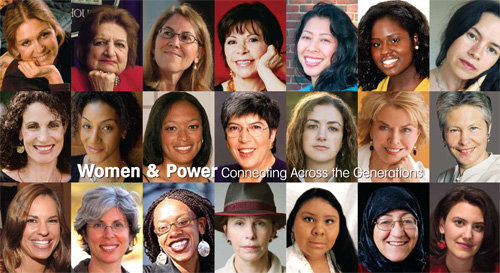 Women & Power
Connecting Across the Generations
Feminist.com's archive of features from Omega's Women & Power: Connecting Across the Generations Conference
Feminist.com was proud to be a media partner of the Women and Power: Connecting Across the Generations Conference, which took place on September 11-13, 2009, organized by Omega Institute. For more about the conference theme and a complete list of all the featured speakers at Connecting Across the Generations, click here. To order audio CDs from this event or to purchase recordings from past Women & Power conferences, please order online at www.eomega.org/omega/mediaworks, call 845.266.4444, ext. 317 or email [email protected]
From the press release:
The power of women has never been more in the spotlight, as recent articles in O Magazine and the New York Times Sunday Magazine have highlighted women's contributions, and recognized the global benefits of supporting women and girls throughout all generations and cultures. Against this backdrop, Omega Institute will hold its 8th annual women's conference titled Women & Power: Connecting Across the Generations, September 11-13, 2009 on Omega's Rhinebeck, New York campus.
The weekend event will offer uplifting speeches, panel discussions, and entertainment from more than 35 groundbreaking women across several generations. Featured women include feminist icon Gloria Steinem, White House correspondent Helen Thomas, acclaimed recording artist Natalie Merchant, Olympic gold medalists Jessica Mendoza and Angela Hucles, the youngest woman to receive the MacArthur Genius Fellowship Lateefah Simon, award-winning novelist Isabel Allende, Afghan women's advocate Sakena Yacoobi, and Native American youth activist Alberta Nells.
"For the past seven years, Omega's annual women's conference has facilitated important conversations among women from all corners of the globe and all walks of life – ranging from some of the world's most powerful women, to some of its most disadvantaged," said Carla Goldstein, director of the Women's Institute at Omega. "Through gatherings such as this we build bridges and provide empowering perspectives and tools for making a difference in one's home, workplace, community, and our shared world. This year we are bringing together brilliant women of all ages to share their lessons learned and to think creatively about how to address the big questions facing women today."
***
Articles
Coming to Terms with the "F" Word At this year's annual Omega women's conference in Rhinebeck, New York, participants reached across generations to empower themselves and their communities. The authors spoke to two of the younger "trailblazers." (by Marianne Schnall and Patty Goodwin, The Women's Media Center)
Women Connecting Across the Generational Divide: from Gloria Steinem to Courtney Martin (by Marianne Schnall and Patty Goodwin, Huffington Post / Feminist.com)
Speeches
CARLA GOLDSTEIN, Director of the Women's Institute at Omega and Director of External Affairs
Women & Power: Connecting Across the Generations: Opening Remarks
ELIZABETH LESSER, cofounder of Omega, author, and frequent Oprah & Friends radio host
Putting the Words Women and Power Together
PAT MITCHELL, President and CEO of the Paley Center for Media and former president and CEO of PBS
My Top Ten List of Assets Women Have to Save the World NOW
GLORIA STEINEM, feminist groundbreaker and guide, journalist, author, and political activist
Keynote Speech
GAIL STRAUB, empowerment trainer and author of Returning to My Mother's House: Taking Back the Wisdom of the Feminine.
Returning to The Great Mother's House: Taking Back The Wisdom of The Feminine
SAKENA YACOOBI, Founder, president, and executive director of the Afghan Institute of Learning
Powerful Women: Reconnecting the Generations in Afghanistan

Writings by Conference Speakers
JENSINE LARSEN, Founder of World Pulse Magazine, covering world issues through women's eyes.
The New Security Net: Women are using technology to forge global support networks and build a new development paradigm
PAT MITCHELL, President and CEO of the Paley Center for Media and former president and CEO of PBS
The Media Effect
SIL AND ELIZA REYNOLDS, a mother/daughter team who teach workshops for mothers and their pre-teen and teenage daughters
Raising a Feminist/Raised a Feminist: A Mother's and Daughter's Perspective
Interviews
by Feminist.com founder Marianne Schnall
Conversation with Charreah Jackson
Blogger and associate editor at Essence Magazine
Conversation with Elizabeth Lesser
cofounder of Omega, author, and frequent Oprah & Friends radio host
Conversation with Courtney Martin
blogger and author of Perfect Girls, Starving Daughters
Conversation with Pat Mitchell
President and CEO of the Paley Center for Media and former president and CEO of PBS
Conversation with Alberta Nells
Youth leader of the Navajo Nation
Conversation with Ana Nogales
Founder and clinical director of the nonprofit organization, Case de la Familia
Conversation with Helen Thomas
former White House Bureau Chief and legendary journalist
Related Links
"Spiritual Activism" column (by Carla Goldstein, Director of the Women's Institute at Omega)
About Omega Institute for Holistic Studies
Founded in 1977, Omega Institute for Holistic Studies is the nation's most trusted source for wellness and personal growth. As a nonprofit organization, Omega offers diverse and innovative educational experiences that inspire an integrated approach to personal and social change. Located on 195 acres in the beautiful Hudson Valley, Omega welcomes more than 23,000 people to its workshops, conferences, and retreats in Rhinebeck, New York and at exceptional locations around the world. www.eomega.org