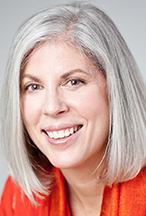 Carla Goldstein, J.D., is Omega Institute's chief external affairs officer and cofounder of the Omega Women's Leadership Center. An attorney with 25 years of experience in public interest advocacy, she has contributed to more than 100 city, state, and federal laws, and has worked extensively in city and state government on issues related to women's rights, poverty, public health, and social justice. She is a commentator for WAMC's show, 51%, writes a column and serves on the advisory board for Feminist.com, and serves as advisor to Women Without Borders.
Before joining Omega, Carla Goldstein was vice president for public affairs at Planned Parenthood of New York City (PPNYC), where she directed the agency's advocacy and strategic communications work. Before joining PPNYC, Goldstein worked for the speaker of the New York City Council, where she helped craft and advocate for state and federal legislative agendas. While in law school at the State University of New York at Buffalo, she was cofounding editor-in-chief of the state's first women's law journal, the Buffalo Women's Journal (now published as Buffalo Journal of Gender, Law, and Social Policy). Goldstein has also been featured at the New York State Bar Association's "Women on the Move: Successful Women in the Know".
Goldstein was an adjunct professor at CUNY Queens College for eight years, where she taught a course called Law and Social Justice, which was designed to empower students to be effective advocates for progressive social change. She now teaches a variety of workshops at Omega, including Omega's Women & Power conferences and retreats, which inspire thousands of women from around the world. Carla Goldstein also appears regularly on local and national radio and television, and makes public presentations on issues related to women's empowerment, holistic and sustainable living, activism, and spiritual activism.
Follow Carla on Twitter @Carla_Goldstein
Read Carla's article about her recent trip to Rwanda: Omega Attends Women's Conference in Rwanda

Founded in 1977, Omega is the nation's largest holistic learning center whose mission is provide innovative educational experiences that awaken the best in the human spirit, providing hope and healing for individuals and society. Every year more than 20,000 people attend workshops, retreats, and conferences on its 195-acre campus in the countryside of Rhinebeck, New York, and at other sites around the country.
The Omega Women's Leadership Center, a dynamic new component of Omega, is dedicated to empowering women around the world. It has grown out of the momentum created by the annual Women and Power conferences that Omega Institute has presented in partnership with V-Day since 2002. It seeks to sustain throughout the year the community and inspiration generated at the conferences. Women's deep wisdom is essential to the creation of a more sustainable and loving culture in every facet of life, from the personal to the political. The OWLC provides opportunities for women and men to inspire and strengthen their visions and authentic voices through unique learning and community building experiences.
For more information, visit www.eomega.org.