The Media Effect


By Pat Mitchell

It's Friday night in Kabul, Afghanistan. Thousands of Afghans are crowding the entrance to the Intercontinental Hotel, hoping to get tickets to the show being taped inside; millions more are crowding into homes, stores, mud huts...wherever the bright light of a TV beckons...
Rumors fly that even the Taliban are gathering in an undisclosed location to watch.
This is the big night: the finals in a competition that has swept this war torn country...a singing contest called Afghan Star.
15 million Afghans, more than half the population, watch this American Idol-styled TV series every week and almost as many vote every week for their favorite.
The campaigns for the final singers are intensive. One passionate fan even sold his car so he could buy extra SIM cards and finance the campaign for his favorite singer.
There's an extra buzz, too, about these finals. For the first time, two women made it to the final four, and since women are forbidden to sing in public under Sharia Law, a public debate has intensified and some religious leaders attempt to shut down Moby TV, the network that produces and broadcasts the series. Tensions increase during the finals, too, when one of the women dares to dance on stage as she sings her final song. Her life is threatened, and the producers arrange protection. She is back home in a few weeks, determined to pursue her dream of singing... and dancing...for freedom.
The TV series has started its 6th season, more popular than ever and with more women competing. A documentary that tells the whole story behind Afghan Star and its effect on Afghanistan just premiered at Sundance and won two major awards. I recommend a viewing when it is broadcast in the US.
Afghan Star is a an example of what I call the Media Effect: accomplishing something that neither the government nor the international troops has done: bringing peace and calm for a couple of hours every week in a land where violence and fear of violence is ever present; encouraging a new kind of freedom and self expression for women, and strengthening a fragile democracy by popularizing campaigns and the power of a vote.
The media effect is often debated...good or bad, overstated or underrated?
But the fact is that there is an effect, and there is plenty of evidence, getting more measurable and more powerful as media becomes more pervasive, more personal, more mobile and more global.
Why is there anorexia in Bhutan? There isn't even a word for it in the language, but since TV and the internet were allowed in the country about ten years ago, there is a popular program among young girls called Baywatch.
Why do so many young Arabs think Americans condone torture? 24.
A series widely watched throughout the Middle East.
And what about the media effect of the current global financial crisis: is it "spreading a contagion of fear that is literally paralyzing the consumers and taking the global economy into a tailspin"?
Blaming the media for society's problems is as old as broadsheets and as new as bloggers, 24X7 news channels, ethnic press and pundits, and there are many examples of a negative media effect: from ethnic radio inciting genocide in Rwanda to on-screen stereotypes contributing to intolerance and racial and religious tensions.
Increasingly, as the technology powers and empowers the delivery of the media effect in ways not possible before, there are both good and bad outcomes.
During the terrorists attacks in Mumbai, some of the guests hiding in their rooms sent out a SOS on Twitter and got instant response from a Twitterer in the American Embassy who with maps and media's reporting from the scene, guided them to safety. A life saving media effect.
On the other hand, mobile GPS systems also guided the terrorists to their targets.
The media effect, good and bad, was one of the biggest factors in the recent US presidential elections: rampant sexism in old media hurt Hillary's campaign and a newly engaged and energized new media constituency helped put Obama in the White House.
Isn't it time to end the debate about whether or not media shapes society or merely mirrors it and consider the real life examples of media as a singularly powerful agent of change.
Consider what has happened in the Democratic Republic of Congo in the center of Africa. A richly resourced country where millions have lost their lives in a complicated civil war going on for more than a decade, largely without much media attention.
Too complex to explain, too depressing to report, far away and out of sight.
Until last year...when an activist/playwright named Eve Ensler wrote an eyewitness account in Glamour magazine.
Yes, a fashion magazine with 9 million readers which published totally unfashionable photos and Eve's compelling story about the horrific situation for women and girls in the middle of this war... 400,000 raped and violently abused in what Ensler calls a femicide. Her story triggered a new level of media interest and what followed... New York Times front page stories, Anderson Cooper from the front lines...eventually woke up public opinion which put pressure on political leaders which led to last week's arrest of a murderous rebel leader and the trial of warlord in an International war crimes court.
In that courtroom, the most damning evidence is being presented in videos made by Witness, a small NGO started by Peter Gabriel, that uses media to document injustice in ways that can't be disputed or ignored. The media effect.
Media is offering new solutions for society's most ignored and vulnerable populations: providing vital health information to rural women through voice activated programs on mobile phones; giving farmers and fishermen up to date market information on cheap cell phones, information that is improving their profit margins; filmed surveillance leading to rescues of young girls from a growing global sex trade business in places as diverse as the Arab Emirates and South Georgia; a soap opera in India spreading the word about AIDS and encouraging condom use; a sports program in South Africa educating rural villages about the use of bed nets to prevent malaria...and there are many more examples of the media effect saving lives, improving health, contributing to economic empowerment and political participation.
Who knows, maybe smart phones will soon be able to feed the hungry and end poverty, too. Someone is working on that media effect right now. Probably someone at the TED conference.
Every time I talk about the media effect, I think of my father. Even though he sold and repaired TV sets from their earliest days, he didn't allow his own family to own one. He was too worried about the bad influences and big ideas on impressionable minds. Like mine. And television did give me a lens on the world that changed my whole perspective and life plan.
To his dying day, my Dad blamed all my mistakes on television... especially the decision to leave a career as in teaching for a career in television... "wasting all that education" he used to say.
And it's waste I'm worried about. The waste of media's power, the waste of its reach and impact, the waste of media's capacity to tell compelling stories and motivate change; the waste of new and emerging technologies that can be part of the solution to the world's needs.
As a recovering journalist, former documentary producer and production executive and now CEO of the Paley Center for Media, I have seen the media effect up close and personal all over the world. And at the Paley Center, we explore this effect with media executives and media consumers by using examples from past media effects...readily available in our library of 140,000 hours of TV, Radio and Advertising content...and through our conversations and forums with today's media leaders and creators. We also imagine the future of the media effect by offering a space where All things Media can convene and connect.
At the Paley Center, we witness the power of information and entertainment to connect or disconnect, to inform or incite, to motivate and challenge, to change a life and the course of history... as well as shaping and re-shaping the future.
We also believe that this is too big an opportunity to waste and there is too big a need for understanding the media's effect and using it to create a more equitable, peaceful, sustainable world.
Here's the headline: the media effect is no longer only in the hands of CEOs running global media companies. It's in ours and using the framework of TED, I propose that we use this personal power to reframe our expectations for information and entertainment, to reboot our roles as users and viewers, activists and actors, storytellers and policymakers in ways that reconnect to the effect.
This article originally appeared at The Huffington Post.
Visit the Paley Center at paleycenter.org.

***
Pat Mitchell was one of the featured speakers at the Women and Power: Connecting Across the Generations Conference held at Omega Institute, September 11-13, 2009.
To order audio CDs from this event or to purchase recordings from past Women & Power conferences, please order online at www.eomega.org/omega/mediaworks, call 845.266.4444, ext. 317 or email [email protected]

Feminist.com's Archive of Features from the
Women & Power: Connecting Across the Generations Conference
Related links at Feminist.com:
Pat Mitchell Remarks at the Omega Institute Women and Power Conference: "My Top Ten List of Assets Women Have to Save the World NOW"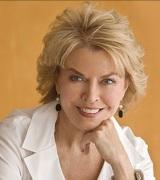 PAT MITCHELL Since assuming her current role as President and Chief Executive Officer of The Paley Center for Media, Ms. Mitchell has brought new life to The Paley Center for Media's event series with innovative programming, attracting high profile leaders in entertainment, technology, business, politics, and policy. Drawing upon its influential board of trustees and International Council of media executives, Ms. Mitchell has clearly positioned the Paley Center as both a neutral forum for industry professionals and a public space for media lovers to gather for informative and entertaining events—from evenings with casts and creative teams of current popular series to premieres of new and innovative work to industry dialogues focused on the dynamics of a rapidly evolving and converging media landscape.
Ms. Mitchell came to The Paley Center for Media from the Public Broadcasting Service (PBS), where she was named president and chief executive officer in March 2000, the first woman and first producer and journalist to hold the position. During her tenure, she oversaw the development of many new projects, including a celebrated new series for children focusing on teaching literacy skills and celebrating diversity, a testament to her belief in the power of media to empower and inform. She also led public broadcasting into the digital future with such initiatives as the conversion from analog to digital broadcasting, the launch of a high-definition PBS channel and an on-demand and cable preschool children's service, the growth of PBS's website into one of the three most visited sites on the Internet, and the establishment of the Digital Future Initiative to help define models for public service media using new digital technologies.
Ms. Mitchell came to the world of media when she was recruited from college teaching by Look magazine. Not long after, she took her first story to WNBC New York, where she saw her work go from page to screen – and never looked back. Over the next three decades, Ms. Mitchell worked for three broadcast networks and several cable channels, winning national acclaim both in front of and behind the camera as a reporter, news anchor, talk show host, White House and special correspondent, producer, and executive. In the mid eighties, she established her own independent production company that produced documentaries, series, and specials for broadcast, cable, and national syndication. She became the first woman to nationally syndicate her own show, the Emmy-winning Woman to Woman, which she also hosted. In 1992, Ms. Mitchell became an executive in charge of original productions for Ted Turner's cable networks. Over the next eight years as executive producer, her documentaries and specials received thirty-seven Emmy Awards, five Peabody Awards, and two Academy Award nominations.
Ms. Mitchell herself has received numerous awards during the course of her career, including the Women in Cable and Telecommunications Woman of the Year Award; the CINE Golden Eagle for Lifetime Achievement; the PROMAX Century Award for contributions to the television industry; the Sandra Day O'Connor Award for Leadership; and most recently, the NATPE Brandon Tartikoff Legacy Award. In addition, Mitchell was named one of the most influential female executives in the media by the Hollywood Reporter and was honored as one of the first fifty women in The Paley Center for Media's She Made It initiative.
In addition to her accomplishments both on and off the screen, Ms. Mitchell is also known for her humanitarian efforts and her work as a dedicated member of numerous nonprofit boards. She is a member of the Council on Foreign Relations; the vice chair of the Sundance Institute board; a founding member of Mikhail Gorbachev's global environmental organization, Global Green USA; a member of the V-Day board, a global movement to end violence against women and girls; a member of the Human Rights Watch board of directors; an adviser to the Center for Public Leadership at the Kennedy School of Harvard University; a member of the Mayo Clinic's board of trustees; and on the corporate boards of Bank of America, Participant Productions, and SunMicrosystems, Inc.
A magna cum laude graduate of the University of Georgia, with a master's degree in English literature, Ms. Mitchell has also been awarded honorary doctorate degrees from Emerson College, Hollins University, Bloomsburg University, and Converse College. She and her husband, Scott Seydel, have six children and ten grandchildren and reside in New York and Atlanta, Georgia.