My Top Ten List of Assets Women Have to Save the World NOW


By Pat Mitchell

Pat Mitchell Remarks
at the Omega Institute Women and Power Conference
Opening Night Dinner with faculty/moderators/special guests
September 11-13, 2009

My top ten list of assets women have to save the world NOW:
#1: Us
Women in this room and around the world with wisdom and experience. We are the builders/architects/designers/ laborers/teachers/students/mentors and mentees/journalists/storytellers/activists and actors…all of us doing the work, on the ground and at the top levels across every sector of society. We are the change agents creating change and it's time to scale up our work with collective strategies and new coalitions.
#2: Next generation of Us:
That's what this conference is about…building bridges to the next generation and with them, we can surely build the bridge to the future. The next generation of feminists are an asset we need to know and nurture but as is clear at this conference, they are already a big asset…and ready to move forward.
#3 Men
In every generation there are men who believe in the power of women; who understand the value of investing and supporting women and girls and who know that they can't hold up their half of the sky without fully empowered women holding up theirs.
By the way, I moved this asset up to # 3 after reading the headlines from recent research that Maria Shriver did for her project, "A Woman's Nation". Preliminary findings indicate a significant shift among American men…especially married men…who in much larger numbers than previously documented, recognize the economic assets of women fully and fairly employed and compensated.
More than ¾ of men surveyed supported their wives working. And that's a good thing because women make up more than half the workforce in the US.
Maria's research indicated, however, that there is still a way to go towards equitable sharing of family responsibilities and still some differences in the measurements for best marriages.
Men who had the most sex in their marriage reported being the happiest. No surprise there and probably no surprise that the happiest married women were those women married to men who did their fair share of family and home duties. Enlightened men can bring better balance at home and to the world.
#4 Numbers:
Finally, the numbers are working for us: more than half the population; control more than half of all consumer spending and 85% of all high ticket purchases like houses and cars and control more than 40% of the wealth in the US! Those statistics are largely composed of what we call 'older women'. ..the demographic that media and advertisers ignore. How can they do that? We allow them to.
We continue to buy their products when they pander and degrade us, when they have less than equitable gender representation among their senior executives and on their corporate boards. We can turn that inequitable situation around tomorrow by mobilizing the assets of numbers.
# 5: Education:
In every country, the value of investing in girl's education is recognized as a big fact in moving forward to a very different future, more so in some countries than others to be sure, but as the facts on the ground prove the value of educated girls, more girls get to go to school and stay in school. That alone will change everything as they will marry later, have fewer children, contribute to their family's health and financial sustainability and have positive impact on their communities, country and world. Educating girls is the best investment any family, country or global community can make in the future.
#6 More women leaders, leading companies and countries.
This is not so much a number's asset…although that helps…but what makes this a bigger asset with today's elected women and most of today's corporate CEO's is that so many of these women are providing more and more evidence of the unique assets of women as leaders, whether they lead a big company or a country. When women lead from our unique values, when we fully engage our unique female brains (we have a bigger frontal lobe, according to new scientific research and that is the part of the brain that controls empathy, judgment, wisdom. Important attributes for a leader. And women with power to lead are putting policies in place that encourage sustainability, and budgets that divert some of the 1 trillion dollars being spent on weapons (more than half by the US) into programs that support negotiation and peace rather than conflict, that guarantee economic equity, education and healthcare.
#7 Money.
Women have more money in our hands than any women in history and American women more any other women anywhere because we live in a country where you can earn more, invest more, and inherit more. Women are moving millions of their money into good causes every year, and when they do, it makes a difference. It could make an even bigger difference if we set bold and audacious goals and put our money where our goals are and agreed on one or two big goals or outcomes. We could make it happen. No question. Leveraging millions in our hands is a big change waiting to happen.
#8 NGO's
There are so many worthy non profit organizations whose purpose is to improve the lives of women and to realize full potential in every country. This good work goes on because we have invested millions in support of the work of hundreds of these organizations, big and small and now we need to evaluate our investments, take some measurements of outcomes and perhaps redirect or better coordinate the funds we donate and push for greater cooperation and coordination of the work on the ground and in the policy arenas for greater impact.
#9 Media and Technology.
Here is real power! And instead of allowing women to continue to be victimized by media's stereotypes and underrepresented in all the global news, information, and stories…less than 12% of global media is about women and the percentage hasn't changed in spite of the fact that there are hundreds more channels, and thousands of other new media means of distributing information. Women are also underrepresented among the ranks of people who lead media and technology companies, and yet women are the single largest constituency of viewers for TV, listeners for news and information radio, and fast becoming the largest consumers of internet content and users of mobile phone. We should be the most well represented group in any media. But we are not and it's time to assess this asset in a new way altogether.
There are examples of media and technology's influence around the world that indicate what an asset this is just waiting for us to claim it and use it. Mobile phones distributed to illiterate women in rural Afghanistan reduced maternal deaths by giving women life saving instructions on their phone. Much the same thing happened in India where messages in local languages come on when the phone is turned on and there are phones in the most remote villages and provinces everywhere, most often the hands of a woman or women. Television programs are credited with reducing Hiv/Aids infections in India and South Africa. A call-in radio show in Capetown is promoting condom use more effectively than any public service or government distribution campaign. Citizen journalists with flip cameras documenting brothels in Cambodia have freed sex slaves and then the video was used to convict the traffickers.
Technology gives us the tools to distribute information in ways not possible before and with well produced media content, we could create a woman's network of news and information, one that shares our stories, that provides lifesaving information in the most remote area that connects us to one another in a new community that belongs to us. This can be done, and this weekend, we are going to hear from young women who are creating new online portals where a real woman's voice is being heard and women's stories being told and shared. All of these efforts can be scaled now in a way that wasn't possible before. If we build it, they will find it and use it and we will change the world.
So what's # 10?
!10…Faith and Hope.
Yes, I have faith that women will connect with our assets and together, with the same kind of faith, hope and passions that we launched the abolition movement in the last century and freed the slaves, we will start a new movement and free ourselves and our sisters all over the world from all forms of enslavement.
Hope is a form of planning…so let's start with the hope that we will begin the planning this weekend to fully engage all our assets, individually and collectively, across generations and gender, to stop the rising waters of planet degradation, to end sexual violence, to eliminate the endemic poverty and the conditions that perpetuate it, to push for reforms that guarantee education for girls, economic opportunities for women of very culture and class, and to demand full human rights and full emancipation for all women so that we can aspire to leadership positions across all sectors and as leaders, change the nature of power with our unique woman power that brings all these assets and more together for a more sustainable, peaceful and prosperous future.
Thank you.
***
Pat Mitchell's Remarks at the Omega Institute Women and Power Conference Opening Night Dinner with faculty/moderators/special guests, September 11-13, 2009.
To order audio CDs from this event or to purchase recordings from past Women & Power conferences, please order online at www.eomega.org/omega/mediaworks, call 845.266.4444, ext. 317 or email [email protected].

Feminist.com's Archive of Features from the
Women & Power: Connecting Across the Generations Conference
Related links: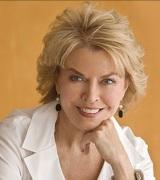 PAT MITCHELL Since assuming her current role as President and Chief Executive Officer of The Paley Center for Media, Ms. Mitchell has brought new life to The Paley Center for Media's event series with innovative programming, attracting high profile leaders in entertainment, technology, business, politics, and policy. Drawing upon its influential board of trustees and International Council of media executives, Ms. Mitchell has clearly positioned the Paley Center as both a neutral forum for industry professionals and a public space for media lovers to gather for informative and entertaining events—from evenings with casts and creative teams of current popular series to premieres of new and innovative work to industry dialogues focused on the dynamics of a rapidly evolving and converging media landscape.
Ms. Mitchell came to The Paley Center for Media from the Public Broadcasting Service (PBS), where she was named president and chief executive officer in March 2000, the first woman and first producer and journalist to hold the position. During her tenure, she oversaw the development of many new projects, including a celebrated new series for children focusing on teaching literacy skills and celebrating diversity, a testament to her belief in the power of media to empower and inform. She also led public broadcasting into the digital future with such initiatives as the conversion from analog to digital broadcasting, the launch of a high-definition PBS channel and an on-demand and cable preschool children's service, the growth of PBS's website into one of the three most visited sites on the Internet, and the establishment of the Digital Future Initiative to help define models for public service media using new digital technologies.
Ms. Mitchell came to the world of media when she was recruited from college teaching by Look magazine. Not long after, she took her first story to WNBC New York, where she saw her work go from page to screen – and never looked back. Over the next three decades, Ms. Mitchell worked for three broadcast networks and several cable channels, winning national acclaim both in front of and behind the camera as a reporter, news anchor, talk show host, White House and special correspondent, producer, and executive. In the mid eighties, she established her own independent production company that produced documentaries, series, and specials for broadcast, cable, and national syndication. She became the first woman to nationally syndicate her own show, the Emmy-winning Woman to Woman, which she also hosted. In 1992, Ms. Mitchell became an executive in charge of original productions for Ted Turner's cable networks. Over the next eight years as executive producer, her documentaries and specials received thirty-seven Emmy Awards, five Peabody Awards, and two Academy Award nominations.
Ms. Mitchell herself has received numerous awards during the course of her career, including the Women in Cable and Telecommunications Woman of the Year Award; the CINE Golden Eagle for Lifetime Achievement; the PROMAX Century Award for contributions to the television industry; the Sandra Day O'Connor Award for Leadership; and most recently, the NATPE Brandon Tartikoff Legacy Award. In addition, Mitchell was named one of the most influential female executives in the media by the Hollywood Reporter and was honored as one of the first fifty women in The Paley Center for Media's She Made It initiative.
In addition to her accomplishments both on and off the screen, Ms. Mitchell is also known for her humanitarian efforts and her work as a dedicated member of numerous nonprofit boards. She is a member of the Council on Foreign Relations; the vice chair of the Sundance Institute board; a founding member of Mikhail Gorbachev's global environmental organization, Global Green USA; a member of the V-Day board, a global movement to end violence against women and girls; a member of the Human Rights Watch board of directors; an adviser to the Center for Public Leadership at the Kennedy School of Harvard University; a member of the Mayo Clinic's board of trustees; and on the corporate boards of Bank of America, Participant Productions, and SunMicrosystems, Inc.
A magna cum laude graduate of the University of Georgia, with a master's degree in English literature, Ms. Mitchell has also been awarded honorary doctorate degrees from Emerson College, Hollins University, Bloomsburg University, and Converse College. She and her husband, Scott Seydel, have six children and ten grandchildren and reside in New York and Atlanta, Georgia.