A Tale of Two Sisters: Rachel's Story
By Rachel P. Goldstein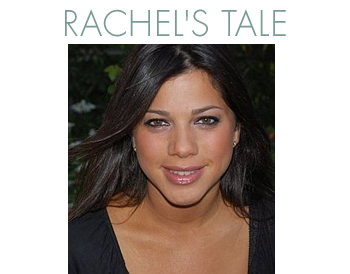 Initially, when I helped create the Dot2Dot Summit, our idea was to bring true leaders of thought into one intimate setting for three days. The goal was to leave our statures, religions, political beliefs, and professions at the door and just BE -- 35 people under 35 years old who care about our country. In retrospect, that first weekend brought unexpected love and understanding to my fellow Dot brothers and sisters, which they organically passed between one another. We sat in one large circle and became a force that only total understanding could create. A togetherness that I simply can not compare to any other group I have ever been involved with. It is straight-up LOVE!
In charge, and a stickler for rules, I realized there was a magnificent woman in the room who was not on the list prior to the weekend. The first thing I noticed was her regal head wrap, supported by her silent confidence that hovered around us all. I was, as usual, racing around making sure the event was running smoothly. But nothing stopped me from admiring Najeeba Syeed Miller's distinguished and peaceful force. That first weekend was a turning point for all of us; however, I never in my life imagined what would happen in the aftermath.
TWITTER!!!! Truth is, I started using Twitter because of peer pressure. That may sound funny, but the only way I could keep up with certain friends was if I read what they were posting. I found it annoying at first, but then I realized that this was a genius outlet to speak my mind, promote my events and missions, and have the added bonus of an online social life. (I personally love to post inspirational quotes.)
After the inaugural Dot2Dot Summit the power of Twitter was taken to a new level. An army of love, support, and passion was born. Any time one of the Dots had a project that needed an extra push, instantly 35 ridiculously resourceful people were there to help.
Lucky for us, our sister Najeeba would post hundreds of tweets on what spirituality meant to her (140 characters or less, mind you). In response, I would offer words of wisdom from the deep-rooted utopian lens that I hold, wishing the world was -- simply put, a more peaceful place. I know it's not easy to say or do. But with leaders such as Najeeba, whose purpose in life is to teach the philosophy of interfaith unity, I have the comfort of knowing there are others walking along the same path as I. I think the world of her and am a bit envious because she had the educational structure of being a professor in these teachings while I've simply been a student in the school of life. Furthermore, I am in awe of what an incredible mother she is and I get such joy from reading her tweets on childcare and rearing, listening to the ways of she encourages a proper mindset within them.
You see, I believe that people are all heartbeats waiting to meld into one. I think this hatred amongst races and religions is a result of boredom and ignorance. In my opinion, if people who stem from hate choose to sit in that hate, it should be their problem and not the rest of the world's. This is what causes pain. This is what causes war. This is what causes reckless death. These people need to be smothered with love and compassion until they see the light. Yes, we all have different histories and some have seen torment on levels that others have not. But I feel people need to truly understand where they come from and use that power to educate others so a ripple effect of understanding and positivity can begin.
If we had more leaders like Najeeba, who teaches both students and her social community about the power of their own beliefs and spirituality, that shift could begin. It takes one person at a time to inflict true change. Najeeba's drive and desire to help others understand what U N I T Y is truly about is honorable, and I am so privileged to be a patron in her orbit.
So thank you, Twitter, for being a launching pad of thought for this Jewish woman from the Bronx who currently lives in Manhattan, and for this Muslim woman from Kashmir who currently lives in California. We have both put our unique, turbulent, and loving upbringings on the figurative front page because of you---we are one! And thank you Feminist.com, for giving us a new platform through this column for Najeeba and I to bring forth our beliefs, solutions, and our love for humanity.
A veteran within her field, Rachel P. Goldstein has twenty years of experience in the non-profit, film, music, political, and wellness industries. A connection to event production and passion for social progression has led Rachel to found a full-service firm, Agent of Change. With an emphasis on cause-related events and projects, Rachel's AOC specializes in fusing her creative sense with the client's concrete goal. It is this flexibility within her profession that creates such boundary-less opportunities for Rachel and her clients. Through a systematic process of brainstorming, networking, curating, logistics, and foresight, Rachel effectively unifies vision with completion. With a native New Yorker sensibility working in her favor, Rachel continues to strengthen the thread between professional achievement and social consciousness. Rachel's past positions included Director of Program Development at Donna Karan's Urban Zen Foundation, Vice President of Entertainment at Goldstein Communications, Film/TV Producer for Academy Award Winning Filmmakers' Barbara Kopple, Alex Gibney and Emmy Award Winning Filmmaker Marc Levin.