Gloria Steinem, feminist activist and writer, and our longtime supporter, created the We Are Linked Not Ranked bracelet.
Feminist.com is proud to be the beneficiary of proceeds from the sale of Gloria's bracelet!
Imagine a world where there are no outdated hierarchies, no arbitrary distinctions, but rather a universal bond between individuals, Imagine We Are Linked, Not Ranked. Let your spirits lift when you wear these cheerful, colorful beaded bracelets; layer solid glass beads with others declaring the mantra. All proceeds from the sale of the bracelets will go to feminist.com, founded in 1995 to offer people around the world access to information and support.
Product details:
Glass colored and alphabet beads, sold in a set of four (two solid, two with words).
One Size / Standard 7" (please contact us for custom size orders)
In honor of Feminist.com's 25 year anniversary this year, we are happy to announce Gloria's bracelets are now available through the newly launched We Are Linked Not Ranked online store.
To stay up to date, join the We Are Linked Not Ranked email list.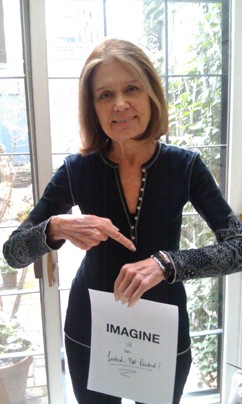 Gloria Debuts Her We Are Linked Not Ranked Bracelet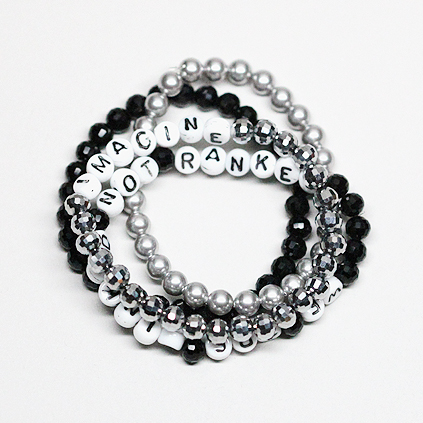 Created in partnership with the Yoko Ono and the MaidenNation Imagine Project