Hosted by Gloria Steinem at her home, Feminist.com's Salon on Feminism – part of our FemSalon Series – raised funding for Feminist.com and featured feminist thought leaders, activists and media makers like Carol Gilligan, Devaki Jain, Kathy LeMay, Pat Mitchell, and Kathy Najimy, among others.

It was a room filled with incredible women, including members of the Feminist.com board and advisory board, along with many longtime friends, supporters and colleagues.

Find out who joined us for this special evening, and learn more about the amazing work they do…


Learn more about Feminist.com and our programs!

Full Schedule for several exciting FemSalons to be announced soon!

Past events:

Women & Money: Re-Imagining Economics
Featuring Jennifer Buffett, NoVo Foundation and Kathy LeMay, Raising Change NoVo Foundation

Young Voices
Young Voices Over 60 advocates for young people's empowerment gathered for a day long convening - a think tank on the status of girls' and boys' lives and how we might improve upon them.


Our Inner Lives
Featuring best-selling author Marianne Williamson, a panel moderated by Omega Institute co-founder Elizabeth Lesser, a performance by Grammy-award winner India.Arie, our first annual "Spirit, Faith & Action" award to Sister Joan Chittister and more!


Women & Peace
Featuring a conversation with filmmaker Abigail Disney and other women peacemakers.


Women & Men as Allies
This event series and companion initiative ask us to think about working together to support the changing paradigm of men and women's roles in society.


For more information, email us or for the latest Feminist.com news, join here:


Make your tax-deductible
contribution today!



Find out what inspires Kathy LeMay and why she supports Feminist.com: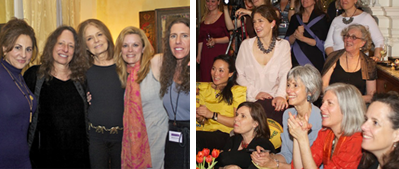 See photos from the event.

Featuring Carol Gilligan, Devaki Jain, Kathy LeMay, Pat Mitchell, Kathy Najimy, Marianne Schnall and Gloria Steinem.

Marianne Schnall, Founder and Executive Director of Feminist.com
Carol Gilligan, Psychologist and Author
Pat Mitchell, President and CEO of The Paley Center
Kathy Najimy, Actor and Activist
Gloria Steinem, Activist and Author
Devaki Jain, Economist and Author
Kathy LeMay, Founder and CEO of Raising Change

Videographer: Rhiannon Marino / Content Producer/Editor: Kathleen Sweeney

Read Joyce McFadden's Huffington Post piece about the Salon.

Thank you to our generous sponsors and amazing partners!
• Fairwinds Trading
• Ms. Magazine
• The Rye Young Catering Team
• Kathleen Sweeney Videography
• Avionne Adams Photography
• Abbe Aronson of Abbe Does It
• Ophira Edut at Mediarology.com

Thanks also to Gloria Steinem for hosting the first in our FemSalon Series! And Carol Gilligan, Devaki Jain, Kathy LeMay, Pat Mitchell and Kathy Najimy for lending their big ideas and incredible voices.

Finally, thanks to all who joined us at the event! It was a spectacular evening – made even more special because all of you were there.