June 24, 2014, New York City
Brought to you by Feminist.com in collaboration with:

Amy Richards, Soapbox, Inc.
Antoinette Klatzky, Eileen Fisher Leadership Institute
Carol Gilligan, New York University
Marianne Schnall, Feminist.com
*Affiliations listed for ID purposes only.
With financial and in-kind support from:

Anonymous
The Arts Effect
Eileen Fisher Leadership Institute
Women Moving Millions
Awesome Without Borders/The Harnisch Foundation
On June 24th, 2014, over 60 advocates for young people's empowerment gathered for a day long convening – a think tank on the status of girls' and boys' lives and how we might improve upon them. Those who gathered were educators and media spokespeople, health care providers, journalists, leaders of non-profits and girls whose lived experience is more valuable than any analysis of them. There was a vast range of expertise in the room, though most attendees focused their work on girls and young women's lives in the United States; 51% of attendees represented national organizations.
Carol Gilligan started the day asking: "What would it take to advance the well-being of girls?"
The goal of the day was to introduce allies, to think through tough issues and to showcase good work. Mostly it was meant to push our thinking toward a place of solutions: Why after 40 plus years of recognizing girls' strengths and acknowledging girls' vulnerability are we and they still stuck? How can we more forcefully and permanently encourage girls' strength and move them to a place of safety?
Collectively the day was a huge success for reinforcing and building allegiances, for learning about new or being reminded of timeless initiatives, and for contemplating more collaborations.
Stay tuned for a full report on this event and more information on this initiative. Young Voices will continue its work through the development of an online platform and additional events.
Learn more about Feminist.com and our programs!
Stay tuned for more upcoming events!
For more information, email us or for the latest Feminist.com news, join here:


We do what we do because of you – and we couldn't do it without you!
Please consider making a tax-deductible contribution to Feminist.com to support more events and initiatives like Young Voices.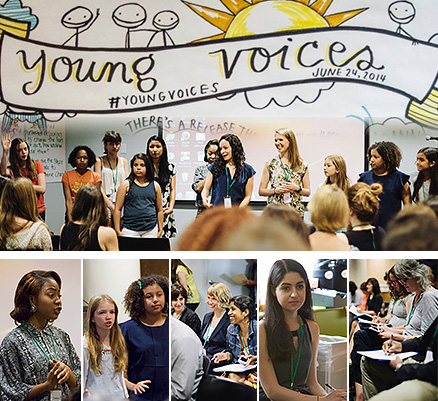 See photos from the event on Feminist.com's Facebook page:
Album 1 (photography by Carly Romeo)
Album 2 (photography by Rhiannon Marino)
Click here to read our report.
Getting to the Root of the Problem (Niobe Way's remarks at Young Voices)
Once again, thank you to our generous suppporters and partners!

Eileen Fisher Leadership Institute
The Arts Effect
Awesome Without Borders
Women Moving Millions
Kathleen Sweeney Videography
Blaine Edens
Aimee Aubin (EFLI)
Matt Smith of Perisphere Media.
And as always - thanks to all who joined us at the event! It was an inspiring afternoon and we were so grateful to all the activists, organizations and thought leaders who attended!
This event was the kick-off event for Feminist.com's Young Voices initiative. Stay tuned for more information about our plans for a Young Voices event series and a comprehensive online hub. To support Young Voices, please make a donation here. Thank you!