| | | |
| --- | --- | --- |
| | | See another section in Articles & Speeches |
Remember the Rainy Day Fund? It's Pouring.
by Kathy LeMay
President & CEO, Raising Change
I understand that this article could be read as: "Please make my job easier". In better times perhaps I'd have the gall or arrogance to make such a statement. These though are not better times. I'm not sure I can fully characterize the times in which we live. What I can state with near certainty is this: We are in the times we have designed. Be it intentionally or unintentionally, consciously or unconsciously, we have shaped our world. And while for many this may seem deflating, for me- maybe because I am lucky enough to work in social change- I know that hope is not yet lost. I have seen first-hand mission makers and philanthropists coming together creatively and swiftly to turn the seemingly irreparable into the beautifully possible. And if ever there were a time for this coming together to reach historic level heights this time is now.
Today and in the coming days, human and environmental rights will face unprecedented challenges.The regressive policies being put forth by the current U.S. administration are not piecemeal nor are they narrow in scope and reach; they are sweeping, extensive, and for the most marginalized people in the world and the most precious natural resources, grim. Author, essayist and social critic James Baldwin said, "We've made the world we're living in, and we have to make it over".
What then does this mean for the philanthropic sector, for each of us that gives, whether we write checks for $10 or $10 million, serve on a Board of Directors or give time at soup kitchen, travel the world helping others, or lend a hand in own backyard? What is the new charge for philanthropy? What is the great untapped opportunity?
Times like now is what philanthropy and philanthropists were designed for: to boldly, powerfully, nimbly and with kindness and generosity show the world hope realized. Philanthropists do not retreat at times of great need. They advance. Philanthropists listen, learn and give, not for personal gain but for humanity's unfulfilled promise. Philanthropists prize possibility, hope and inclusion over tension, strain and exclusion. They ensure that people are not left without or behind. They do not standby while suffering mounts. They act.
I've seen this first-hand in my twenty-five years as a social change fundraiser: from the outpouring of support to the women of Bosnia and Rwanda, to caring for those victimized by AIDS and Ebola, helping find shelter for homeless children throughout the world, and funding the kind of change that may not be measured in our lifetime but that nevertheless can be among the most important funding in the world: changing the systems that lock people into only one destiny.
Philanthropists take risks when others advise them naught. They equip leaders and organizations even when the outcome is uncertain. And, they don't always win. Life never guarantees a win even when we give it all we got. But still in spite of what has seemed like improbable odds, philanthropists have shown up and made wagers on the seeming longshots. They've stood by and alongside the known leaders of our times, the emerging voices, the misunderstood activists, the undiscovered filmmakers, the visionaries whose hearts and minds would shift culture for the better. I was once a young, unknown, misunderstood activist. They took a chance on me. Never before had the importance of philanthropists' contributions to the world been driven home to me quite like the time when I met a dear man who was the close personal friend of and attorney to the late Dr. Martin Luther King, Jr. He said to me, "Remember Kathy, Martin was a fundraiser. He met with philanthropists throughout our country. Those good people they kept our Movement fueled". This we know to be true: Dr. King and the people who fueled his work took the risks that were needed for the time in which the lived. They were courage in action.
And how these past few weeks have shown us courage: leaders and activists are showing up and standing up. From all walks of life they are visible and they are giving everything they've got to ensure equality for all. They are organizing, planning, acting and though the road is long they are traveling it and inviting each of us to make history with them. Now is the next time in human history when philanthropists can show up and step up and make a mark that will write the story that has not yet been written. This is the moment for philanthropists to show those that succeed us that once there was a Movement and philanthropists made it soar.
And this we know as well: these times in which we live are different. How we fund and equip the leaders of our time can dramatically impact our shared vision: to create a world in which each person is valued and afforded the opportunity to live their lives fully and peacefully. We must uncomplicate the funding of these extraordinary organizations. They need our support. I, for one am doing everything in my power to free up resources that I will swiftly direct to the leaders and organizations I know to be making an impact.
How then can we as a philanthropic community act for the times in which we live? How can we give in a way that helps us make our world over?
1. Clear your calendar. To make the best right decisions we each need time to think: What is my best highest use? What are the contributions I can make that will have the greatest impact? Trying to uncover your highest purpose cannot easily be done with seven calls on your daily calendar. We must each make time to think. You may do this best in the woods, on the treadmill, pacing, talking a loud, or after bingewatching Netflix. Whatever is the right course: do it today. Keep your commitments, of course. Don't however drag them out. Make the gifts you've pledged, take the calls you've scheduled, be at the meetings you've RSVP'd to. Then, make room to think. Each of us must give room for examination, for study. I have been reading James Baldwin, Langston Hughes, Gabriel Garcia Marquez, Rachel Carson. I'm also bingewatching Netflix, calling my senators to the point where I've been labeled "that woman who won't stop calling", and as of today am including Melissa McCarthy in my will. And I am clearing my calendar.
If ever before you've needed a reason to pull back from busy, this is the reason. Do what you need to do to make room to think. Above all, kindle the fires of your thinking. We need what you're about to uncover.
2. Fast track funding. If you can make a decision swiftly and quickly for funding social change, make it. Allocate funds within days. Advocacy, legal, movement-building, information-gathering, networking and direct service organizations are not sitting idle waiting to act. They are responding quickly and efficiently. They are collaborating. They are moving at the pace the new landscape is compelling and designing creative actions for impact. Having access to capital swiftly will, without a shred of doubt have a profound different on their ability to accelerate their impact. Fast track your funding. The impact you see in the coming months resulted from your philanthropic support.
3. Give your multi-year pledge in one payment. You've made a pledge. You trust the organization. They need your complete trust now more than ever. If you have the ability to fulfill the pledge in one payment, go ahead and do it. But, you may be asking: what about a plan? What about a budget? In the six days following the detainment of travelers from seven Muslim countries, thousands of people donated $24M in forty-eight hours to the ACLU. The ACLU didn't have a deck or a plan for $24M, but as you are reading this they are working with the recently named "most powerful start-up in the United States", the Y Combinator. This partnership will help them smartly and wisely use these funds to "protect civil liberties" in the age of Trump. Let's follow the lead of the donors who gave to the ACLU: let's increase how much we're giving away (foundations who give 5%, go ahead and give 10%; individuals who give 5% from income, go ahead and give 10%). Let's flood the good with boundless resources.
4. Activate your spheres of influence. Right now people want to make a difference. From coffee shops to twitter feeds caring people are asking, "What can I do? How can I help?" Activate your spheres of influence and networks by sharing what you are doing. What is your story? Why are you committed to helping those being hurt? What steps are you taking? What ways can someone who shares your values be part of your effort? And importantly, block out the voices of the naysayers. You don't have to absorb negativity about your core values. You don't have to convince someone of your undertaking. Tell your story, invite and engage, and those in and beyond your spheres of influence will gravitate towards you. You may just reach someone who is feeling hopeless and helpless. You just may be their lifeline in this uncertain time.
5. Participate in the change you are funding. As my dear friend and philanthropist Emily Nielsen Jones says, "When you participate in the change you are funding, it magnifies your joy. It awakens human solidarity between giver and receiver reminding us that our wellbeing and destiny are interconnected. By letting ourselves feel and experience others' vulnerability we can more clearly see the false rules of the playbook which need to be re-imagined". Be in the communities you are funding. The relationships we forge with one another will fuel the deepest part of ourselves in the days to come.
6. Trust you. If you're feeling "the time is now for me to play big it is." No need to wait for buy-in or approval. You simply need your permission. If you're feeling powerless, do something powerful. Give the gift you've always wanted to give. In times like these you are the one you have been waiting for. Trust that you know best where your time, treasure and talent should be allocated.
The history books will write about this time. They will either reflect a time that favored backsliding and inhumanity or they will write of the stories of people who gave all they had and all they could to be on the right side of history. And when one day each of us is asked- and we will be asked - "what did you do during that time in the United States' history", here's to each of us saying, "Every single thing I could".

Other articles by Kathy LeMay at Feminist.com:
Grief and Social Change
Poverty at 5,120 Feet: A Response to Davos
Dance as if Your Life Depends on It
Generous Thoughts
Excerpt from The Generosity Plan: Sharing Your Time, Treasure, and Talent to Shape the World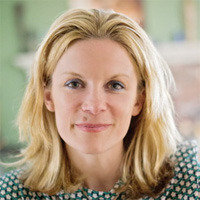 Kathy LeMay is the founder, president, and CEO of Raising Change, which helps organizations raise capital to advance social change agendas and individuals create Generosity Plans to help change the world. LeMay, who began her global activism in war-torn Yugoslavia where she worked with women survivors of the siege and rape-genocide camps, has been a social change fundraiser for 15 years, raising more than $150 million dollars in the fields of women's human rights, hunger and poverty relief, and movement-building.
In addition she has directed an additional $100 million in philanthropic dollars to organizations working to make a difference. LeMay serves as an adviser and consultant to Fortune 100 companies, universities, international NGOs and the United Nations. She is a sought-after speaker on strategies for social justice and empowering women to come into their voice.
In the year 2000, LeMay was nominated for a Reebok Human Rights Award for her 15 years of service as a human rights activist. She was named one of Business West Magazine's "40 Under 40" and, in January 2010, she released her first book, The Generosity Plan, published by Simon & Schuster/Atria and Beyond Words. In late 2016 she will release her second book on the vital role of compassion, empathy and self-determination in modern day philanthropy. Kathy is also a member of the Advisory Board at Feminist.com.