| | | |
| --- | --- | --- |
| | | See another section in Articles & Speeches |
Poverty at 5,120 Feet
A Response to Davos
by Kathy LeMay
President & CEO, Raising Change
This month, Oxfam, the international humanitarian aid organization released a briefing paper that highlighted the growing gap between the world's wealthiest and the world's poorest. Of the data shared, "... the wealthiest 1 percent have captured 95 percent of all economic growth since the financial crisis of 2009, while the bottom 90 percent have gotten poorer."
A primary concern in this article was what this data meant for the future, namely that the wealthiest will likely benefit from, "...the lowest tax rates, the best education, and the best healthcare... claimed by the children of the rich." The inference here, which IS ACCURATE is that tax, education, and health benefits of this caliber will not go to the poor or the children of the poor, who now number at 3.5 billion.
Around the globe philanthropic and business leaders are convening at international summits to tackle challenges like these. Summits like the World Economic Forum in Davos, Switzerland which wrapped just days ago. Titans of industry spend days sharing ideas on how to end poverty, AIDS, and human rights abuses. This is noble, and needed. And it beats the alternative.
At the same time, it feels like something is missing. There are solid conversations about poverty: how can it be turned around, what's the role of business, which are the optimal solutions? It's a bit heady and distant from the actual poverty but the conversations are led by some very bright people. So what could be missing?
How could multi-millionaires and billionaires truly impact the future of social change? Here's just a few ideas that could round out the conversations:
1. Change the conversation. Social activists like the good people at Oxfam speak of ending poverty. Financial leaders speak of protecting wealth. Both imply people but the emphasis is on economic systems. What if we were to prioritize human development? While for many it can be difficult to agree with the policies of the United Nations, there is merit in their articulation of human development: "Human development is about much more than the rise or fall of national incomes. It is about creating an environment in which people can develop their full potential... in accord with their needs and interests. People are the real wealth of nations. Development is thus about expanding the choices people have to lead lives that they value. And it is thus about much more than economic growth, which is only a means-- if a very important one-- of enlarging people's choices." Let's expand our thinking to include self-determination, expression of voice, and the opportunity to create and to fully participate. When these are our benchmarks of success, we have the capacity to break open untapped gifts and talents. We know that poverty is a barrier to self-determination and wealth doesn't guarantee it. Let's invest in the development of people and allow this design to inform our economic systems.
2. The business case for human rights may hit a wall. "Up until now business have thought of themselves as businesses... there to worry about the bottom line and create jobs, but they've been frightened about speaking up about issues. What we hope for... is... to be a lot braver. If we see that women's rights are not being protected in certain countries, we will speak out about it. If we feel that the rights of individuals who love each other but are of the same sex but not being protected we will speak about it." Richard Branson spoke these words at the 2014 World Economic Forum and this is a sign of changing times. And while business leaders speaking up about inequality is a critical part of social change, it is not a business' primary purpose to ensure global human rights. Business can- and hopefully will- apply human rights due diligence across their sector. These efforts can prevent human rights abuses in the workplace. However, the quest to ensure global human rights goes beyond any one person, policy, institution, or sector. Businesses can play a role in determining how they can support the international movement to ensure human rights. It will take every sector working together in every way to reach this global milestone.
3. Social change takes time, often much longer than any of us would like. In the world of business there is a term called proof of concept. Proof of concept demonstrates the feasibility of a businesses product or service. This is no easy task. Business owners and leaders work 24/7 to illustrate the relevancy of their product in the market, and to investors. If viability is not proven, businesses must reinvent or fold. Social change on the other hand has a bit more of a complicated proof of concept. When, for example, is someone lifted out of poverty? Has a community failed if it didn't rebuild as quickly as had hoped after a disaster? If refugees are forced to make a home in a new country are they? Not seeing the success you hoped for or expected does not indicate failure or a lack of progress. Social change, changing culture, finding common ground for billions of people, that takes time. Be patient and don't abandon an initiative that is worthwhile but hasn't readily or easily demonstrated proof of concept.
4. Service and humility are key to long-term success. It is an honor to serve others. To live up to this honor, humility is essential. Each of us can benefit from closing our eyes and imagining what it's like to go without food, water, clothing or shelter. Last week, users of gmail went without service for thirty minutes. Facebook and twitter lit up with frustrations about the service interruption. Some posts were even rage filled. That was thirty minutes without email. Approach this work with humility and respect for our neighbors who have endured the unthinkable and who keep rising. Those who are lucky enough to be in service to humanity and social change are thankful, scared, overwhelmed, celebratory, and on our good days, humble. When we thanked for what we offer, we should say thank you for the chance to participate.
5. Change requires sacrifice. Of sacrifice, Dr. Martin Luther King, Jr said this, "Human progress is neither automatic nor inevitable... Every step toward the goal of justice requires sacrifice, suffering, and struggle; the tireless exertions and passionate concern of dedicated individuals." What does it look like to sacrifice for social change? Each of us has the opportunity to ask what, if anything, am I willing to relinquish to allow others to have a fighting chance? What are we willing to give that we've never given before? You, like everyone else has untold gifts to contribute, that go beyond our bank accounts. One of the keys to social change might just be their unleashing.

Other articles by Kathy LeMay at Feminist.com:
Dance as if Your Life Depends on It
Generous Thoughts
Excerpt from The Generosity Plan: Sharing Your Time, Treasure, and Talent to Shape the World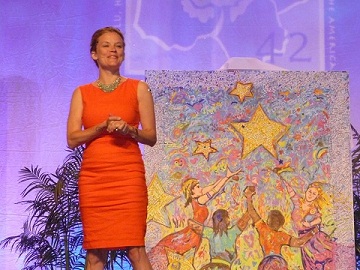 Kathy LeMay is the founder, president, and CEO of Raising Change, which helps organizations raise capital to advance social change agendas and individuals create Generosity Plans to help change the world. LeMay, who began her global activism in war-torn Yugoslavia where she worked with women survivors of the siege and rape-genocide camps, has been a social change fundraiser for 15 years, raising more than $150 million dollars in the fields of women's human rights, hunger and poverty relief, and movement-building. In addition she has directed an additional $100 million in philanthropic dollars to organizations working to make a difference. LeMay serves as an adviser and consultant to Fortune 100 companies, universities, international NGOs, and the United Nations. She is a sought-after speaker on strategies for social justice and empowering women to come into their voice. In the year 2000 LeMay was nominated for a Reebok Human Rights Award for her 15 years of service as a human rights activist. She was named one of Business West Magazine's "40 Under 40" and, in January 2010, she released her first book, The Generosity Plan, published by Simon & Schuster/Atria and Beyond Words. She is the recent recipient on the 2012 First One Access Award, which honors prominent public figures for their inspirational roles as the first in their families to get a college degree. Kathy has appeared on numerous television and radio shows including Oxygen TV and The Oprah Show. She is a contributing columnist to World Pulse Magazine, where she also serves as the Board Chair. Kathy has also recently become a member of the Advisory Board at Feminist.com. www.raisingchange.com