| | | |
| --- | --- | --- |
| | | See another section in Articles & Speeches |
From NYC to Nairobi to Cairo:
A Women's Journey to Help Save a Friend in Prison

by Rachel P. Goldstein
The following article originally appeared at Agent of Change
Last month my good doings were catapulted to the next level.
On November 23, 2011 I spotted a tweet from TED curator Chris Anderson reading, "@TEDchris Our thoughts are with #TED prize winner film-maker Jehane Noujaim reportedly detained during unrest at #Tahrir 10:56 AM" - My stomach dropped!
Jehane and I have been friends since meeting at the 2008 Democratic National Convention in Denver, Colorado. We instantly bonded over the colorful cast of characters we worked with on that project. I knew we were going to be eternal friends when, at the Pepsi Center shortly before, Presidential Elect Barack Obama made his speech and the only film crew who got to go backstage was Jehane and her cinematographer Mona Eldaif. The best part? They didn't even have credentials on! It is savvy women like these that inspire me to step up and get out.
Jehane Noujaim + Rachel Goldstein at the 2008 Democratic National Convention
Over the years Jehane and I have remained close and she was a natural addition to tight-knit DOT•2•DOT family. Without a doubt, she was one of the top 35 people under 35 making this world a better place. A TEDPrize winner, she used her wish to organize Pangea Day, a live videoconference that took place in NYC, Rio de Janeiro, London, Dharamasala, Cairo, Jerusalem and Kigali, in addition to her world acclaimed films Control Room, and Startup.com which made her a cinematic powerhouse. After working with such intense female filmmakers as two-time Academy Award-winning Barbara Kopple, I knew Jehane was cut from the same cloth. A dual citizen of Egypt and the United States, Jehane has been living in Cairo for the last few years making a film and chronicling the intensity of her country. Needless to say, she stops at nothing to uncover the truth.
Jehane Noujaim, Mayor Cory Booker + Rachel Goldstein at the DOT•2•DOT Summit
Jump to the day before Thanksgiving of this year when I saw that tweet from someone I have massive respect for – Chris Anderson. I immediately sent an email to Mona to try and get some update on Jehane. I sent another email to the DOT•2•DOT google group to see what media credentials we could get to Jehane while she was in prison. I spent the entire night lost in tears, thinking of the worst and hoping for the best. A female journalist, Mona Eltahway, was also arrested and released only after a brutal beating and sexual assault by the Egyptian military. The tears continued to fall. Frantic with fear, I found my friend and colleague Cameron Sinclair on Twitter and felt comforted knowing he, too, was posting as much as he could about Jehane in the hope that this attention would lead to her freedom. I emailed him to see if I could help and together we continued to pull at what strings we had in our grasp.
One of the Dots who was based in Nairobi got a friend on the ground and in the Cairo prison with Jehane's lawyer. I had never spent Thanksgiving in bed mentally crossing three continents to help a friend but there is a well-deserved first time for everything I suppose. I didn't once wonder or guess or question, I simply ran ahead on pure adrenaline. At 6:38 a.m. I poured out an email to every powerful person I knew in media, international relations, and so on. The thread reached representatives from the US State Department (a Dot, of course), TED, CNN, ABC, NBC, CBS, and NYTimes Cairo Bureau. Suddenly, about 15-20 of the most influential people in media, pr, Jehane's life and I were on one email figuring out how to help. It read:
My trusted friends + colleagues.. If you are receiving this email you are connected in the international film, tv and media arena.. and I hope you can possibly help my friend Jehane Noujaim.
US/Egyptian filmmaker Jehane Noujaim was arrested yesterday in Tahrir Square in Cairo. I have heard that they may be charging her with setting fire to a military truck which I know Jehane couldnt hurt a fly. I also heard may be charging her for filming without a permit. I have been told that she needs media credentials brought to her at the prison… She is supposedly going to trial any moment today.. Her lawyer Ragio Orman is with her. If there is anyone who can help with getting media credentials to her…. She is at the Abdeen Police Station and she and Magdy Ashour will appear before El Wayley Prosecution.
They just released another US/Egyptian journalist Mona Eltahawy and she is giving play by play details of how they beat and sexually assaulted her over the last 12 hours.. I cant fathom this! Follow her @monaeltahawy
If you are on twitter - please follow her lawyer Ragio Orman @rago_legal or producer Karim Amer @kandaluz - the hashtag is #freejehane…
Here is a press link..
http://www.cbsnews.com/8301-202_162-57330677/u.s-journalist-arrested-by-egyptian-police/
Here is Jehane's Ted Talk on her global wish for peace thru film… (did I mention she is a TEDPrize winner)
Jehane Noujaim wishes for a global day of film | Video on TED.com
Jehane made the films Control Room, Startup.com etc..http://www.imdb.com/name/nm0636675/
Any help you can offer would be greatly appreciated.. Thank you…†
In gratitude ~
Rachel P. Goldstein | President | Agent of Change
Since my agent of change days begun in 2004, I always knew I had a spark to start a fire but in this severe moment, in this intense vision of reality, I acknowledged the gift I could bring to a friend who had already brought me and this global community so much. I never imagined Jehane would be here and I certainly never imagined that I would help on the ground and in cyberspace till she was safely released from prison. I realized in that instance how much one person really can do, how much I can do, and how these AOC connections I had built were the real fruit of my years-long labors.
After 36 hours Jehane was released however I wasnt going to be satisfied until I saw her name pop up on Skype, the forum where we usually communicate. I knew she was out, I was told she was unharmed, but still I was worried. A picture was sent out and finally, I could exhale. When I finally got an email from her it was as gracious and full of love as Jehane always is, thankful for my "mamadot" leadership and everyone's efforts.
A Free Jehane
Interestingly enough, when I spoke with her she told me that the tear gas can that blinded her was from a manufacturer in Pennsylvania. Since then, I have been determined to start a big stink (no pun intended). Can you imagine? We are the cause of our own people's pain. Here is their address and phone number in case you are interested in taking action: Combined Tactical Systems, 388 Kindsman Road, Jamestown PA 16134, 723 932 2177.
Roughly two weeks later I was in the ladies' room at TEDxWomen talking to my friend/Dot Jenna Arnold about the whole experience and how my devotion to those I love hadn't been tested at that global level before. As we walked out of the bathroom together I spotted Mona Elthaway from afar. My stomach trembled as I approached her and I wrapped myself around Mona without hesitation, wanting to touch this woman who had gone through so much. Rarely do I ask to take a picture with someone but Mona and her energy were so inspiring, so consuming, so perfect that I had to commemorate it with her.
Mona Eltahawy + Rachel Goldstein at TEDxWomen
This Agent of Change work isn't always perfect and it isn't always cheerful. But it is everything to me and just a few weeks ago, it was everything to a friend trapped in prison on the other side of the world. Perfect or not, that works for me.
*Dots are members of the DOT•2•DOT Leaders, which is a conference that Agent of Change helped create and runs every year

Other articles at Feminist.com by Rachel P. Goldstein:
A Tale of Two Sisters column (with Najeeba Syeed-Miller)
---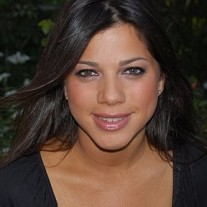 A veteran within her field, Rachel P. Goldstein has twenty years of experience in the non-profit, film, music, political, and wellness industries. A connection to event production and passion for social progress led Rachel to found the multi-faceted management firm Agent of Change. With an emphasis on cause-related events and projects, Rachel fuses her creative senses with the client's concrete goals. It is this professional and personal malleability that has fostered boundary-less opportunities for Rachel and her diverse network. A native New Yorker with the sensibility to match, her inherent talents strengthen the tie between professional achievement and social consciousness. Prior to founding her company Rachel served as Director of Program Development with Donna Karan's Urban Zen Foundation and produced film and television pieces alongside Academy Award winners Barbara Kopple, Alex Gibney, and Emmy Award winner Marc Levin. Rachel's creative reach has led her to produce concerts and events for musical heavyweights such as The Roots, Mary J. Blige, Dave Matthews Band, Eminem, The Black Eyed Peas, Kanye West and Moby. www.agentofchangenetwork.com
Follow Rachel on Facebook and on Twitter @rachgoldstein