Sobonfu Somé (1952- )
< back to Women of Vision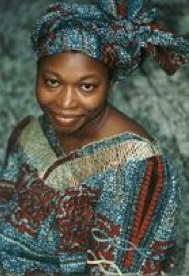 "There is a deep longing among people in the west to connect with something bigger—with community and spirit." Sobonfu Somé, teacher and author, is a powerful voice of African spirituality. She is from the Dagara Tribe of Burkina Faso in West Africa, a poor country and yet one of the richest in terms of spiritual life, community and custom.
Sobonfu's life path to teach the wisdom, rituals, and practices of her ancestors to people in the West was foretold before birth. Sobonfu's special gifts were developed through her early education in ritual and initiation preparing her to fulfill her life's work.
Sobonfu's name means "keeper of the rituals." She sees her work as "a journey in self-discovery and in building community through rituals." She says, "It is always challenging to bring the spiritual into the material world, but it is one of the only ways we can put people back in touch with the earth and their inner values." Sobonfu travels throughout Europe and North America teaching workshops and sharing her message of the importance of spirit, community and ritual in our lives. She writes, "What food is to our body, ritual is to our soul. A ritual keeps us connected to our spirit, our soul and our purpose...."
Sobonfu has written the books, The Spirit of Intimacy, Welcoming Spirit Home and Falling Out of Grace. It is no surprise that Sobonfu Somé, whose life was "visioned" before birth, is fulfilling her life's purpose as "a woman of vision." Her work regarding community, ritual and integrating the spiritual and material is important to personal and planetary healing.