Sojourner Truth (1797-1883)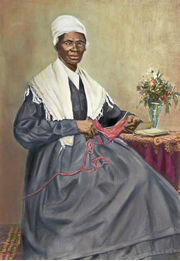 < back to Women of Vision
"Ain't I a Woman?" So began Sojourner Truth's most famous speech in 1854 at the Ohio Woman's Rights Convention. Sojourner Truth's given name was Isabella. She was born in 1797 in Ulster County, New York. She was a preacher and reformer who applied her religious passion to the abolitionist and women's rights movements.
Isabella was the daughter of slaves and spent her childhood as an abused slave of several masters. In 1827, Isaac Van Wagener bought Isabella and set her free just before New York state abolished slavery.
In 1843 she took the name Sojourner Truth and became a traveling preacher and supported herself by selling her book, The Narrative of Sojourner Truth.
She got into the women's rights movement in the early 1850's. She was encouraged by women, notably Lucretia Mott, to speak in the suffrage movement, which she did for the rest of her life.
At the beginning of the Civil War, she gathered supplies for black volunteer regiments and in 1864 went to Washington D.C. where she helped integrate streetcars and was received by President Abraham Lincoln. In 1875 she retired to her home in Battle Creek, Michigan, where she remained until she died in 1883.