Sister Helen Prejean (1939-)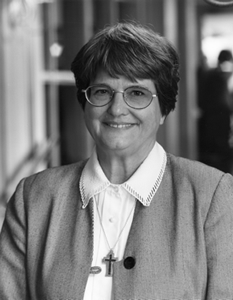 < back to Women of Vision
"Is God vengeful, demanding a death for a death? Or is God compassionate, luring souls into love so great that no one can be considered 'enemy'?"

Sister Helen Prejean was born in Baton Rouge, Louisiana. She joined the Sisters of St. Joseph of Medaille. She has been the Religious Education Director at St. Frances Cabrini Parish in New Orleans, the Formation Director for her religious community.

Sister Helen began her prison ministry in 1981. She became pen pals with Patrick Sonnier, the convicted killer of two teenagers, sentenced to die in the electric chair. She repeatedly visited him as a spiritual advisor. She turned her experiences into a book Dead Man Walking: An Eyewitness Account of the Death Penalty in the United States. It was developed into a motion picture in 1996.

Since she began her crusade 15 years ago, Sister Helen has witnessed five Louisiana executions and educates the public about the death penalty through lectures and writing.