Wilma Mankiller (1945-2010)
< back to Women of Vision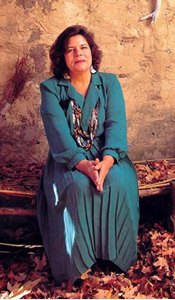 "One of the things my parents taught me, and I'll always be grateful for the gift, is to not ever let anybody else define me." This quote by Wilma Mankiller speaks to her inner strength, perseverance and determination to break free of any limiting beliefs, to become a strong spiritual presence, author, political leader and activist. Wilma Mankiller became the first female Principal Chief of the Oklahoma Cherokee nation serving from 1985 -1995.
Mankiller was a "woman of vision" — a symbol of achievement to women everywhere, particularly indigenous women, encouraging them to aspire to positions of leadership.

"Prior to my election," said Mankiller, "young Cherokee girls would never have thought that they might grow up and become chief." She wrote, "Women in leadership roles can help restore balance and wholeness to our communities." Much of Mankiller's work focused on economic renewal, community empowerment and independence.

Wilma Mankiller believed in the old Cherokee saying "to be of a good mind" and it is this belief that informed both her personal and political life. Mankiller won Ms. Magazine's Woman of the Year award in 1987 and was inducted into the National Women's Hall of Fame in 1993. In 1998, she was awarded The Presidential Medal of Freedom. In a review of Wilma's autobiography, Mankiller: A Chief and Her People, a national bestseller, Gloria Steinem writes, "as long as people like Wilma Mankiller carry the flame within them, centuries of ignorance and genocide, can't extinguish the human spirit." Mankiller was also co-author of Every Day is A Good Day: Reflections By Contemporary Indigenous Women.