Daisy Khan (1958- )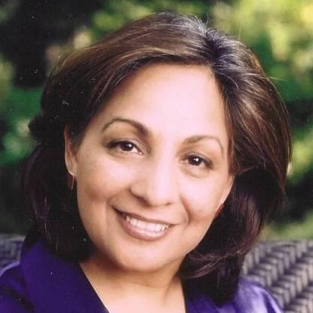 < back to Women of Vision
Daisy Khan is Executive Director of the American Society for Muslim Advancement (ASMA), a New York based non-profit dedicated to strengthening an expression of Islam based on cultural and religious harmony and building bridges between Muslims and the general public. At ASMA, Khan has created a number of groundbreaking intra and inter-faith programs.
Khan has consistently redrawn her career in times of need within the Muslim community. For example, in the aftermath of September 11th, she generated counter-momentum to challenge an environment of suspicion, alienation and frustration. To strengthen the voices of women and youth within the global Muslim community, Khan has created two cutting-edge programs of international scope. In 2004, she launched the Muslim Leaders of Tomorrow (MLT) program to cultivate and amplify a global network of young Muslim leaders committed to improving their respective communities. In response to the continued marginalization of women in Muslim communities, Khan established the Women's Islamic Initiative in Spirituality and Equity (WISE), successfully launched in 2006. WISE represents a global network of Muslim women leaders dedicated to affecting positive and sustainable change in their communities.

Born in Kashmir, Khan spent twenty-five years as an interior architect for various Fortune 500 companies. In 2005, she dedicated herself to full-time community service and building movements for positive change, both in the United States and around the globe. In recognition of this important work, Khan is the recipient of numerous awards, including the Interfaith Center's Award for Promoting Peace and Interfaith Understanding, Auburn Seminary's Lives of Commitment Award, the Annual Faith Leaders Award, and she was selected one of the 21 Leaders for the 21st Century.