bell hooks (1952- )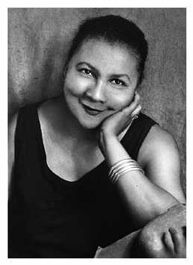 "When we commit to love in our daily life, habits are shattered. We are necessarily working to end domination…Love moves us to a new ground of being. This movement is what most people fear."

Gloria Jean Watkins (whose pen name bell hooks is how most people know her) was born on September 25, 1952 in Hopkinsville, Kentucky. She grew up with five sisters and one brother. Her father was a custodian and her mother, was a homemaker. Throughout her childhood, bell was an avid reader.

Her early education took place in racially segregated public schools, She then earned her B.A. in English from Stanford University, and her M.A. in English from the University of Wisconsin–Madison. In 1983, after several years of teaching and writing, she completed her doctorate in the literature department from the University of California, Santa Cruz with a dissertation on author Toni Morrison.
Bell hooks went to become one of the most widely read post-modern feminist writers and speakers, authoring books like Ain't I a Woman: Black Women and Feminism, Killing Rage: Ending Racism, and Sisters of the Yam: Black Women and Self-Recovery. While bell hooks is considered one of the nation's most celebrated intellectuals, as well as a leading voice in black and feminist studies, what makes bell hooks even more inspiring is her spiritual aspirations. As a long-time student of the Vietnamese Zen master, Thich Naht Hahn, bell hooks speaks of the struggle to end all forms of violence and domination with the passion of someone who is willing to plumb the depths of her own mind and heart.