The Spiritual Adventure

Beginner's Mind
By Elizabeth Lesser
< back to The Spiritual Adventure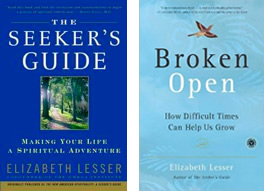 The following piece is adapted from Elizabeth Lesser's book The Seeker's Guide: Making Your Life a Spiritual Adventure.
I once overheard my oldest son, then six, speaking with his best friend. They were in the bathtub together, the only place I knew to put the two of them after a sad and trying day. This was the day that my own best friend, whose little boy was now in the bath, had finally given in to a long battle with cancer and died.
"Where's your mom?" I heard my son ask his friend.
"She's dead."
"I know, but where is she?"
"I don't know. I'm gonna ask my dad tomorrow."
I imagine that religions sprung from this kind of exchange. In my mind's eye I can see two cave people, as in a Far Side cartoon, standing over the body of a friend and pantomiming a similar conversation. Children and early peoples share a purity in their search for the meaning of our existence. Indeed, in their original intent all spiritual traditions aimed to answer bare bone questions about birth and death. As we search for the meaning of spirituality in our own lives, it is best to begin very, very simply, in the same wide-open manner as children, or cave people.
Children learn because they have no shame about being bare beginners. They ask, "Does the sky stop?" and "What does God look like?" When Jesus said, "Lest ye become as little children, ye shall not enter the Kingdom of Heaven," he was referring to this kind of guileless questioning. In their unaffected, optimistic curiosity little children are models for spiritual seekers. The Zen master Suzuki Roshi called this unaffected curiosity, "Beginner's Mind." If we want to fashion a spiritual path for ourselves it is best to begin at the beginning with Beginner's Mind.
If you drew a long line and put modern cynicism at the start and Beginner's Mind at the end, you'd have a map for the contemporary spiritual pilgrim. Somehow our culture has evolved to the point where pessimism has become synonymous with intelligence, and where an over-load of information is confused as knowledge. Admitting that we don't know something doesn't come easily to the modern person. Voicing innocence and a sense of wonder is difficult for many of us; it can only mean that we've read too many Hallmark cards. But children are not sentimental, nor are they lacking in intelligence. Rather, they are unafraid to admit their status as a beginner, to say to the world, "I don't know. Please show me." This doesn't mean that to be spiritual is to remain a child or to take on the trappings of indigenous, less industrialized cultures. Beginner's Mind is about discovering the essence of our humanness—the pure water of the inner heart, before it was clouded by conditioning.
On a recent trip to France, I visited an area of the country called Le Pays de l'Homme, or the "Land of Man." Half way between the North Pole and the equator, its climate is among the most temperate in the world. The landscape is varied, with wide plateaus and fertile valleys, chalky sandstone cliffs and swiftly flowing rivers. It is no mere chance that Cro-Magnon man was born here some 25,000 years ago. This is the area in France where archeologists have discovered caves with the densest concentrations of Neanderthal and Cro-Magnon paintings and carvings in the world. They have been called the "Sistine chapels of prehistory." Panthers, bison, wooly mammoth and rhinoceros, horses and cows, as well as female symbols of fertility, and even mythical unicorns, adorn the caves' surfaces. The paintings are believed to be remnants of a religion that centered on the Earth, the mother of all forms of life. Their purpose is seen as ritualistic, perhaps as a way to initiate their young, expressing the wonder and reverence felt by prehistoric man for the forces of nature and life.
It is quite an experience to visit the caves. Some are located high above the river banks in enormous cliffs near ancient towns built in the Middle Ages. Others can be found in hillsides adjoining farmers' fields where truffles, walnuts, and grapes have been harvested since the first century AD. Emerging from the darkness of a cave, after an immersion into Cro-Magnon consciousness, one is aware of the seamless flow of history. All around are architectural artifacts of the human story. Signs of the ancient Celts, Gauls and Romans are visible in the oldest buildings. Evidence of the wars of religion and the peasant revolts can be seen in the layering of towns along the riverbanks. Ice ages, plagues, foreign invasions, and famines have all left their marks, as have religion, art, and periods of renaissance and enlightenment. Next to a towering castle, fortified to protect against invasion, is a simple stone church with a statue of the Virgin and her child. Along a centuries' old pilgrimage route, one passes stone out-croppings left by various ice ages; towns where the population was decreased 60% by the Black Plague; mustard fields that have been cultivated for thousands of years; woodlands that once were sheep pastures and before that were swamps that once were dense forests.
The effect of such a display of history on an American, whose concept of old is a pre-Civil War house, is profound, and in a certain way, comforting. I came away from my visit to Le Pays de l'Homme with a sense that the essential human condition has changed little over time. Our earliest ancestors were grappling with our own longings and questions. They responded to their vulnerable position in the world with awe and fear, reverence and violence. Far from being brutes dressed in animal hides, Cro-Magnon people had complex thoughts and deep feelings. Over the centuries the tools that humans have developed to help them survive and to express their desires have changed. But the core human experience has remained the same: We wonder where we come from and where we will go after we die. We love and fear each other and the natural world. We express our intelligence and gratitude in art, religion, and civilization; our ignorance and intolerance in brutality, war, and destruction. At the heart of the human story is our search for understanding within the mystery of creation.
I have always been attracted to places of antiquity, and to people who radiate "Beginner's Mind." I find them more inspiring than those who profess to know everything. When I was twenty I started voice lessons with a master of North Indian classical singing, Pandit Pranath. Pranath was, at that time, in his late 50's, but to me he seemed like a very old man. He would greet me at his home in his slippers and his loose, Indian cotton clothing, his long white hair wrapped in a little bun. Shuffling around the practice room as he taught, he would mumble at seemingly odd moments several phrases that I heard him repeat during all the years I studied with him. "Ram, Ram, Ram", was one, and "Allah knows; I do not know," was another. I would be practicing an Indian scale, playing the tamboura, a drone instrument used to enhance the singing, and Pranath would look up and say, "Allah knows; I do not know." I found this puzzling and amusing. At twenty, my goal was to know as much as I could. In this case I wanted to learn this complex system of music and become a great singer.
Now, years later, it is his little phrases I remember when I think fondly of Pandit Pranath, while I would be hard-pressed to sing the Indian scale. In fact, I find myself repeating "Ram, Ram, Ram" and "Allah knows; I do not know", in my music teacher's Indian accent when I get tired of trying to figure everything out. Now I know that Pandit Pranath was also. His mutterings were abbreviated prayers for Beginner's Mind. "Ram, Ram, Ram" was his way of calling to Ram, the Hindu Godhead, for the kind of understanding that surpasses our mind's limited abilities and neurotic attachments. There are some things that are better left alone; some questions that can only be answered by patience and faith. "Allah knows; I do not know" kept Pranath on the path of humility. Often we don't know what is really going on. Our perspective can barely accommodate another person's point of view, no less the forward march of evolution or the eternal mind of God. Better to admit not knowing and to relax in the mystery of life, than to try to force our minds where they can't go.
The poet Rainer Maria Rilke described Beginner's Mind like this: "Be patient to all that is unsolved in your heart and try to love the questions themselves like locked rooms and like books that are written in a very foreign tongue. Do not seek the answers, which cannot be given you because you would not be able to live them. And the point is, to live everything. Live the questions now. Perhaps you will then gradually, without noticing it, live along some distant day into the answer. Resolve to be always beginning—to be a beginner!"
I like to think of Beginner's Mind as the crouch position runners take when they start a race. Alert, poised, and one-pointed, the runner embodies in that moment the kind of readiness necessary for the spiritual path. There is nothing blasé in the racer, nor is there anything arrogant. Rather there is a wise eagerness, a trained openness. The crouch position is not the whole race, but it is necessary to the race, and within its readiness are all possibilities. Likewise, Beginner's Mind is not the whole spiritual path, but it is a necessary attitude to bring to every step along the path, and contains within it the possibilities for freedom, peace, and joyful living.
Excerpted from Elizabeth Lesser's book The Seeker's Guide: Making Your Life a Spiritual Adventure.
< back to The Spiritual Adventure
---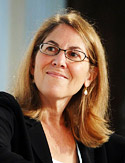 ELIZABETH LESSER is the co-founder of Omega Institute, the United States' largest adult education center focusing on health, wellness, spirituality, and creativity. She is the New York Times best-selling author of Broken Open: How Difficult Times Can Help Us Grow and The Seeker's Guide: Making Your Life a Spiritual Adventure (both from Random House). For more than 30 years Elizabeth has worked with leading figures in the fields of healing, spiritual development, and cultural change. Her work at Omega has included leading the organization, developing its curricula, teaching, and writing the yearly Omega catalog, a reference book that describes the work of some of the most eminent thinkers and practitioners of our times.
For many years, Elizabeth spearheaded Omega's popular Women and Power conferences, renowned gatherings featuring women leaders, authors, activists, and artists from around the world. In 2008 she worked closely with Oprah Winfrey and Eckhart Tolle in the creation of a ten-week online seminar based on Tolle's book, A New Earth. The "webinar" was viewed by millions of people worldwide. Since then, she has appeared several times on The Oprah Show and Oprah.com webcasts, and is an ongoing host on Oprah Radio, a weekly show on Sirius/XM.
A student of the Sufi master, Pir Vilayat Inayat Khan since 1971, Elizabeth has also studied with spiritual teachers and religious scholars from other traditions, as well as psychological practitioners and healers. Her first book, The Seeker's Guide, chronicles the uprising of a new spirituality that she participated in and researched through her work at Omega. Her second book, Broken Open, is a guide for anyone going through a difficult time. Its real life stories inspire the reader to use adversity for inner growth. Broken Open has been translated into 16 languages.
Ms. Lesser attended Barnard College and San Francisco State University. Previous to her work at Omega, she was a midwife and birth educator. She has been active in environmental issues for many years in New York State's Hudson Valley and Catskill Mountains, where she lives with her husband. She is the mother of three grown sons.
About Omega Institute for Holistic Studies
Founded in 1977, Omega Institute for Holistic Studies is the nation's most trusted source for wellness and personal growth. As a nonprofit organization, Omega offers diverse and innovative educational experiences that inspire an integrated approach to personal and social change. Located on 195 acres in the beautiful Hudson Valley, Omega welcomes more than 23,000 people to its workshops, conferences, and retreats in Rhinebeck, New York and at exceptional locations around the world.
Related links:
Conversation with Elizabeth Lesser by Marianne Schnall
< back to The Spiritual Adventure