The following is an excerpt from aja monet's essay No One Teaches Us How to Be Daughters, published in Talking Taboo: American Christian Women Get Frank About Faith (White Cloud Press, October 2013).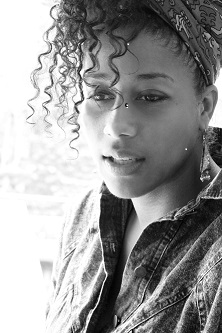 No one teaches us how to be daughters.

There was the born.

The us, with slits and insides,

we shed and shape shift.

We, to blame for the

first despair, the being here.

When our heart melts,

our bodies morph into a vessel,

the genuflect.

The first face we see is a woman.

The first God we know is a mother.

There will always be a man at the pulpit—

the woman who birthed him,

the someone who fed and bathed.

Lest we forget her name,

call her prostitute

call her temptation

the bad apple

of the eye

whisper she as a myth.

Remember whom she loved

and not that she lived.

Say, she's gone mad

she has

and she

will break into

the father,

the son,

she must be,

the Holy Ghost.
The altar was a stage assembled in front of rows of folding chairs in a gymnasium turned worship space. We played pickup basketball games and had silly summer camp dances in the center of the savior's headquarters. I wonder whether Christ was ever not there. Had he left after we disassembled the choir, anxious to be home, hoping to catch the Knicks on the television? I wanted him to hurry, to stop everything he was doing, and rush by my mother's bedside. A hand approached and lay gently on my right shoulder. I recall the sobbing and how the eyes became swollen wounds. Children less shy to be seen carrying the weight of their mothers and fathers–the empathic creatures and the disappointed/ing adults we would later become–we all gathered at the altar. Some of us just for show.
I was not yet taught how to make a man my life, not before being born again. It was the first time I turned from a mother toward a father.
I never understood why God would've chosen to be a man, why he allowed my mother to be sick, or even cared about my virginity. But I know this—he has the uncanny ability to birth beings, again, without the grueling high-endorphin labor of maternity. What does it mean to be born? Again? Was there some sort of complication with the first birth? Had my mom's mom not birthed her right?
God must be in my mother's belly. I was completely surrounded by the universe floating inside her. My brother was the last person in her womb before I came along and I suppose I spent an awful lot of time reading what he left inside there. It must have been interesting to see oneself inside a woman's body as a boy. I suppose it is scary. It was also scary for me; something so close to magic.
I came into the world in a Long Island College Hospital room in Brooklyn, New York. It was the week of the Harmonic Convergence. August 21, 1987. There are many Queens walking amidst the county of Kings. Their name is mother.
In 2002, my mother was diagnosed with Lupus. It's an autoimmune disorder. It's a disease where essentially the immune system attacks the body. As her daughter, I saw the strongest woman I know begin to fight the greatest battle–one with self. She is a self-taught genius. She overcame great obstacles in Corporate America and struggled to raise three children in a society that uses morality and faith as weapons. If anything is to be credited for her perseverance and strength, I'd call it a God. Anything to be grateful to for her deciding to have me when her life afforded her no means to do so, I'd call it a God. I call it this because I pray to it as such. I pray to it because I was told it was something worth praying to. Truth is, she is God.
We are often taught to identify with being sons, the son of man, the Son of God, of a king, of a father–mankind. Where are our daughters?
Our daughters are in the bathroom of an apartment in a city of a country, learning how to love the faces in their mirrors. They are holding babies in their arms while cooking dinner, doing taxes, and educating our future leaders. They are whispering the art of nurture all around us. We are not tools. We are discovering our bodies as vessels. We are somewhere being women, creating societies. If God is a presence, is an entity, a being—let us love one another.

The above is an excerpt from aja monet's essay No One Teaches Us How to Be Daughters, published in Talking Taboo: American Christian Women Get Frank About Faith (White Cloud Press, October 2013).
---
In 2007, at the age of nineteen, aja monet became the youngest individual to win the legendary Nuyorican Poet's Cafe Grand Slam champion title. She works as an inner-city youth mentor and is staff faculty at Omega Institute, using poetry and prose as a holistic healing tool.
aja monet independently published her first book of poetry, The Black Unicorn Sings (Penmanship Books), in 2010, and in the fall of 2012 collaborated with poet/musician Saul Williams on the book Chorus: a literary mixtape (MTV books/Simon & Schuster). She is currently writing Science-Fiction.
< back to I Speak for Myself main page