Until the Violence Stops
Provided by V-Day
V-Day Announces Global One Billion Rising Campaign

Today, on the planet, a billion women – one of every three women on the planet – will be raped or beaten in her lifetime. That's ONE BILLION mothers, daughters, sisters, partners, and friends violated.
V-Day REFUSES to stand by as more than a billion women experience violence.
On February 14th, 2013, V-Day's 15th Anniversary, we are inviting one billion women and those who love them to walk out, dance, rise up and demand an end to this violence. One Billion Rising is a promise that we will rise up with women and men worldwide to say, "Enough! The violence ends now." I am writing today to invite you to join One Billion Rising and help stop violence against women and girls – once and for all.
ONE BILLION WOMEN VIOLATED IS AN ATROCITY. ONE BILLION WOMEN DANCING IS A REVOLUTION!
We can't reach one billion without you! Your participation is vital to the global efforts to end violence against women and girls, we need you to help propel the ONE BILLION RISING campaign to end this violence. On September 24th, we released a short film by Eve Ensler and Tony Stroebel to show the world what it might look like when we rise on 2-14-13. The video has gone viral and been retweeted by Alicia Keys, Bianca Jagger, and many more - there have been over 245,,000 views on Youtube! To view the video, visit http://www.vday.org/shortfilm.
We've released a series with The Guardian newspaper out of London called "I Am Rising," featuring videos from Robert Redford, Jane Fonda, Rosario Dawson, Ai-jen Poo, British MP Stella Creasy and more - http://www.vday.org/node/2971. The series kicked off with a commentary piece by Eve - http://www.vday.org/node/2970.
On November 19th, V-Day released its first-ever music video – Break the Chain is the official anthem of One Billion Rising. Written and produced by legendary music dynamo Tena Clark, the song features an impressive cast of V-Girl activists and New York-based singers. Dance ICON and award winning choreographer Debbie Allen has choreographed a dance just for ONE BILLION RISING. The music video, seen by over 100,000 people at http://onebillionrising.org/blog/we-have-an-anthem, features Allen with the over 80 teen V-Girls and singers bringing their radical RISING energy to locations across NYC. The video will be followed up with a "How To" video by Debbie Allen teaching the steps, so that kids and activists can do flash mobs on February 14th!
Thousands of activists and 13,000 organizations around the globe have already signed on and One Billion Rising events are being planned in over 182 countries. Organizations such as Amnesty International USA, Sonke Gender Justice Network, International Rescue Committee, European Women's Lobby, NOW, and AFL-CIO are coming together. Actors and V-Day board members Jane Fonda, Rosario Dawson, Thandie Newton, Charlize Theron, Kerry Washington along with Yoko Ono, Jessica Alba, Anne Hathaway, Donna Karan, Jennifer Lawrence, Dylan McDermott, Robert Redford, Lily Tomlin, Rosie Huntington – Whitely, Zoe Kravitz, and more are on board. We still need YOUR voice!
ONE BILLION RISING is a campaign that belongs to all of us. Those who have worked on the issue for decades. The millions of activists who have stood up to oppose it. The more than one billion women and girls who have been directly affected by violence.
Imagine the power of ONE BILLION people rising up, dancing and showing our collective strength, our solidarity across borders, and our collective rejection of violence against women as the status quo. Buoyed by the power of social media, ONE BILLION RISING will bring about revolution and change as ONE BILLION people dance and rise for a violence-free world and billions more finally stop and pay attention.
ONE BILLION RISING is a GLOBAL call to action. ONE BILLION RISING will make the earth MOVE by uniting us through DANCE across every country. ONE BILLION RISING is a CELEBRATION.
How you can RISE:
COMMIT to join One Billion Rising now! Email us at onebillionrisi[email protected] with your name and url and we'll list you on our website with a link to your site.
Like us on Facebook: www.facebook.com/vday
FOLLOW us on Twitter: @VDAY; #1billionrising
INVITE your networks to be a part of One Billion Rising. Email, Facebook and Tweet your friends and followers to join us. Sample tweet: I'm rising! Will you rise? 1 Billion Women violated is an atrocity. #1billionrising is a revolution. Onebillionrising.org
FILM a short "I am Rising Because…" video. Personal, short videos recorded right from your own computer's camera. Share the video on your website and social networking sites.
ATTEND OR PLAN an event on 2-14-13! Make it your own. Reach out to your networks and community to stage a rising. Go to onebillionrising.org to register your event and gather information, from music playlists to unique locations and more.
---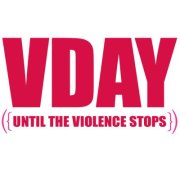 V-Day is a global activist movement to end violence against women and girls that raises funds and awareness through benefit productions of Playwright/Founder Eve Ensler's award winning play The Vagina Monologues and other artistic works. In 2012, over 5,800 V-Day benefit events organized by volunteer activists in the U.S. took place around the world educating millions of people about the reality of violence against women and girls. To date, the V-Day movement has raised over $90 million; educated millions about the issue of violence against women and the efforts to end it; crafted international educational, media and PSA campaigns; reopened shelters; and funded over 13,000 community-based anti-violence programs and safe houses in Democratic Republic of Congo, Haiti, Kenya, South Dakota, Egypt and Iraq. Over 300 million people have seen a V-Day benefit event in their community. V-Day has received numerous acknowledgements including Worth Magazine's 100 Best Charities, Marie Claire Magazine's Top Ten Charities, one of the Top-Rated organizations on Philanthropedia/Guidestar and Great Nonprofits. www.vday.org