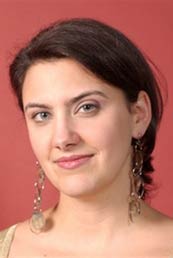 "The governments the world over must treat maternal health as they do with a defense force in readiness for war or a nuclear launch."

It was 11pm and the doctor still had not arrived at the maternity ward in Nairobi, Kenya. Seven women in early labor, three in active labor--all had fear in their eyes. Okeny-Lucia was one of only two midwives in the labor ward, and she was rushing from mother to mother.
"Oh Lord! Save me, save my baby!" More screams came from the furthest corner of the room. "Sister! Sister, oh! Oh! Aaagh!"
Okeny delivered a breech baby that night. Sadly, the baby never cried.
"I felt butterflies in my stomach, and a thin streak of sweat on my forehead," Okeny wrote on WorldPulse.com, an action media network where women are speaking out from 190+ countries.
"The mother raised her head and with a weak voice asked, 'Is my baby dead?' Tears were flowing from her eyes. I did not have an answer. The baby was lost due to the doctor's delay in reaching the facility."

While reading Okeny's gripping personal story, my heart stopped. But hers is just one of many accounts detailing the horrors expectant mothers face around the world. Every day, we hear from women who are facing the dire consequences of governments failing to prioritize maternal and reproductive rights.
We know that every year approximately 287,000 girls and women die from pregnancy-related causes. Every day, 1,000 women die in pregnancy or childbirth. What's worse--90% of these deaths are preventable. From the US to Zambia, women are urgently transmitting stories from the center of this carnage. Their voices are like a bomb blast--hair-raising and brutal in their honesty. But they also contain solutions and innovations that can be shared across borders.
Locally, we hear that women health activists know well what is needed to improve their communities.
From her homeland of Uganda, Ikirimat rattles off a list of potential solutions.
"Skilled assistance during delivery," she writes. "Providing adolescents with appropriate, accessible, and affordable health services; increasing modern contraceptive use; upgrading health centers."

Women in the World Pulse community all seem to agree that upgrading health centers and providing women with access to clean, efficient, well-staffed hospitals is key to curbing maternal mortality rates across the globe.
"At the hospital, there was not a single doctor," writes Olutosin from Nigeria. "The room was crowded with women in various stages of delivery. We were forced to labor on benches, as there was only one bed. When the baby crowned at the birth canal, women would be transferred to the only available bed.... Every day, women are sacrificed at the altars of medical negligence in Nigeria."
Precious Meshi Nkeih of Cameroon describes similar negligence.
"With my third pregnancy, I had very poor prenatal care in the hospital where I registered: No lectures on my first visit, no essential tests, and an arrogant midwife who would not answer my simple questions. I eventually evaded this hospital to give birth in a private clinic where the workers were more hospitable. However, when I got my bill at the end, it had been consciously inflated."

99% of worldwide maternal deaths occur in developing countries. But many mothers in high income countries also face barriers to accessing skilled and compassionate health care. In an interesting paradox, while women in low-income countries are fighting to get women access to high quality health centers, women in industrialized nations are fleeing hospitals in favor of homebirths.
"After the five births I have attended as a doula, I made a decision to never give birth in a hospital unless it is a dire emergency," says Ynanna Djehuty of the US. "Why would I want my child to come into the world so violently?" She describes invasion of privacy, intrusive and unnecessary tests and surgeries, and medicalization of a process that she believes should be a sacred and natural experience.
Yet, women from both industrialized and developing nations find common ground in the absolute need for safe, quality, honoring health care.
"We must find a way to make birth a compassionate, safe, and loving experience for women, their male allies, and their children," continues Djehuty.
Taken as a whole, according to grassroots women, the solutions are abundant and obvious. All the ecosystems that support women from the day she receives her first period to the day she gives birth, must be strengthened. And this includes strengthening support from men in women's lives.
"No matter how well equipped our hospitals may be," writes Titilope from her home in Nigeria, "if the care, love, and support of men is missing, efforts at reducing maternal death will continue to be a mirage."

Importantly, perhaps the most potent weapon against the crisis of maternal death includes providing girls and women with access to an education and empowering information to be their own health advocates.
Precious in Cameroon says it best, "I call on my fellow women to study intensely when they are pregnant. We need to stand up for ourselves and put our health first."
As we are discovering at World Pulse, the Internet and new technologies are opening up new pathways for health education. As women use WorldPulse.com to network, they are exposing each other to their shared experiences, and interacting to develop new approaches. They are also foretelling a new, modern future for health care that blends both the ancient feminine wisdom and the highest standard of medical care. This is something that all countries can benefit from: health care that puts women and children first.
For Okeny-Lucia, she will continue raising her voice to resurrect her childhood vision.
"When I was young I thought being pregnant was sacred. Such great respect was placed on the womb that even in public places such as buses, I saw big, fat, short, and tall women and men springing from their seat to allow a pregnant woman rest. 'Mama Keti hapa.' (Have a sit mum). There was special attention accorded to these citizens because we believed they were bringing forth life and that was precious."
If we hope to defuse this global health terror, we must listen and mobilize alongside these women leaders who are the first responders to this pressing issue. By doing so we can gather the cross-border political force and outspoken moral authority necessary to make the quantum leap for women's health at home and abroad.
This article originally appeared at Huffington Post.
Follow Jensine Larsen on Twitter: www.twitter.com/worldpulse