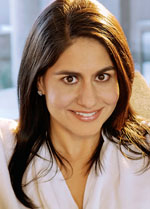 MoneyZenTM
By Manisha Thakor
Does money ever stress you out? If so, you are not alone and this column is here to help. Inspired by Virginia Woolf's belief that women must have money and space of their own to create the lives they were meant to live, this column will cover a variety of financial topics designed to help you achieve just that.
READ AN ENTRY:
The 77/11 Effect: Will It Hurt Someone You Know?
How To Fight Financial Overwhelm
A "Hair"-oing Tale: What Does It Mean for Your Career?
Priceless Financial Advice For Recent Graduates
My Quest To Find Financial Peace Of Mind
Is Your Financial Chi Blocked?
Be Where You Are: To Experience True MoneyJoy
Overcome (Financial) Fear With Appreciation
Reveal Your Worth: Meggan Watterson on Women, Spirituality, and Money
The Marriage of Love & Money: How to Protect Yourself From Financial Heartbreak