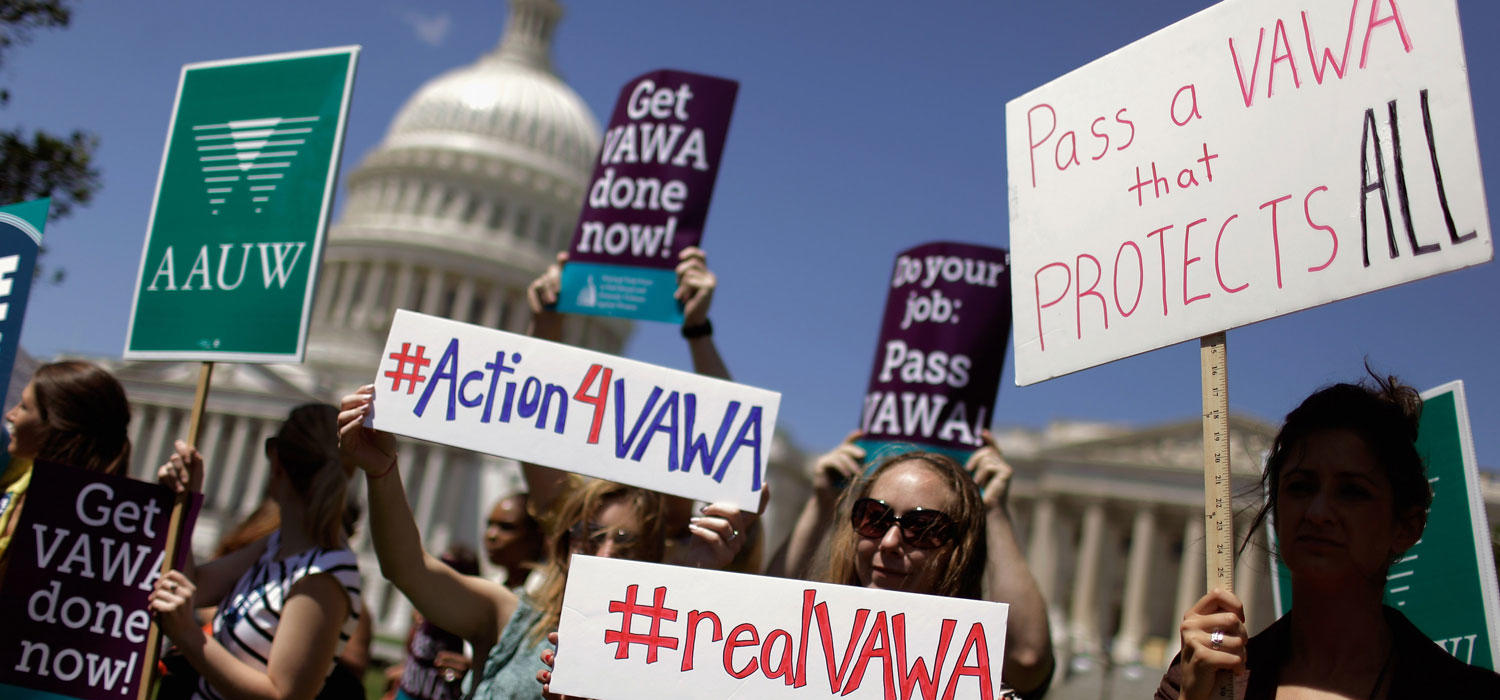 The original Violence Against Women Act (VAWA) passed in 1994, creating the first U.S. federal legislation acknowledging domestic violence and sexual assault as crimes and allocating federal resources to help combat those crimes. The Act is up for renewal every five years, and it was up again in 2019, but still has yet to be passed by the Senate.
The history
Then-Senator Joe Biden initiated the effort to encourage Congress to pass VAWA in 1990 when he passed a preliminary proposal to address the general issue of violence against women. A coalition, which has now evolved into the Task Force on the Violence Against Women Act, worked together to create the VAWA bill that was ultimately passed by President Bill Clinton in 1994.
This version of the Act included the first federal criminal law against battering and provisions on rape. The bill also focused on prevention and funding for victim services. According to the Congressional Research Service, it allowed for enhanced sentencing of repeat federal sex offenders, mandated restitution to victims of federal sex offenses and authorized grants to help law enforcement entities to investigate and prosecute violent crimes against women, among other provisions.
VAWA has been reauthorized three times: In 2000, 2005, and 2013. Since 1994 the Office on Violence Against Women, a part of the Department of Justice created to implement VAWA, has given over 6 billion dollars in funds to governments and non-profit organizations focused on ending violence against women. Each time the bill has been authorized, the grant programs created by the original act were reimplemented, and the mandate to address domestic violence, sexual assault, and stalking were expanded. The content of the act has also been shifted to better help victims, recognize sexual assault, dating violence, and stalking as serious crimes. It has also more carefully and specifically took the needs of underserved populations — like communities of color, immigrant women and Native women — over time.
The 2019 VAWA Act
The renewal period for the most recent version of VAWA lapsed in February, 2019. The House voted to reauthorize the act in April, but Republicans objected to the bill based on the inclusion of protections for transgender people and a provision that would prohibit people convicted of certain misdemeanors, including stalking and domestic abuse, from purchasing firearms, according to CNN.
The GOP-controlled Senate presented its own version of VAWA in November, but the bill allowed for the removal of 2013 provisions meant to better protect Native Women. Sponsored by Senator Joni Ernst (R-IA), this version of the bill would allow non-Native men who are accused of abusing Native women on tribal lands to appeal to a federal court and not be subject to that sovereign nation's judicial system, and would enable accused offenders to say their civil rights were violated by tribal nations during the investigation process and sue them.
Although VAWA's authorization is still expired, Congress has continued to appropriate funds for its programs; Congress allotted $502.5 million for these programs in 2020. Meanwhile, VAWA continues to languish in the Senate, although the House renewed the Act in March, 2021.