| | | |
| --- | --- | --- |
| | | See another section in Articles & Speeches |
Feminism in Kenya: A New Narrative
by Brooke Elise Axtell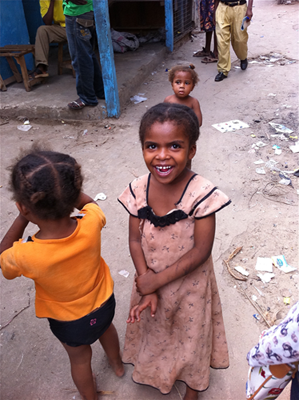 This piece originally appeared in Peripheral Surveys
Nairobi, Kenya. I meet a vibrant, young woman beside the pool tonight. Her name is Habiba and she looks like a dancer with her black hair pulled back into a bun. Her floral blouse and long skirt gently move in the wind. She is a native Kenyan, currently writing a novel about the landscape of war and the journey of one Somali refugee. She wants to travel to Somalia for research, but is concerned for her safety. When she speaks about her work, her eyes are luminous with excitement, "Creative writing is my passion," she confesses. I am drawn in by her warm, inviting presence and the melodic quality of her speech.

I ask her about the new, revised constitution in Kenya and how this affects life for women here. Once again, her face brightens. She says, "The constitution was very dated. Now it favors women." When I ask her how Kenyan women feel about this, she confides with a radiant smile, "I think they are very happy to have equal opportunity."

Her friend, Nancy, also a native Kenyan, joins us at the poolside table with a glass of red wine. When I tell her that I work as an advocate for survivors of sexual assault and domestic violence, she says, "Gender violence is a big problem here. We have a Gender Violence Center in Nairobi. You hear things on the news like a thirty-year-old raping a five-year-old. Do you have that in your country? I don't know why, but I think it's getting worse."

I tell her that even with the development and affluence of the United States, gender violence is still a significant problem. She wants to know how many women are affected. I tell her that 1 out of 6 women are survivors of sexual assault and 1 out 4 women are survivors of domestic violence. This surprises her.

Nancy expresses concern about the struggles of girls in her country. She tells me about the girls she has worked with as a counselor: the girl in the slums whose mother works as a prostitute in their tiny one room shanty because it is the only way she can feed the family; the girl who is a gifted performer yet struggles with low-self esteem and suicidal thoughts; the girl she took to the hospital at 15 with severe complications from a self-induced abortion; the girls who drop out of school because of an abusive boyfriend, early pregnancy or forced marriage.

She says, "I think women are the strongest people in the world." As she pours another glass of wine, she continues to speak passionately about the need for change, particularly for all young women to be educated and have access to family planning resources. "Most people think that help is going to come from the West, but I think it is important for our generation to recognize our history and create change."

As I listen to Habiba and Nancy, I am delighted by their courage and creativity. They are honest about the realities of social injustice, but confident that they can create new stories, new ways for their voices to be heard.

Since the passing of the revised constitution, women must comprise at least one third of Parliament. Abortion is now legal when a medical expert determines that the life of the mother is at stake. Funding for women's healthcare has been greatly expanded. The women of Kenya acknowledge the devastating elements of their history: the violent aftershocks of colonialism. But they are not just survivors. They are creators, boldly writing a new narrative.
---
This piece originally appeared in Peripheral Surveys.
Brooke Elise Axtell is a an award-winning singer, songwriter and poet. Her latest CD, Creatrix, was produced by Charlie Sexton (guitarist for Bob Dylan) and Mitch Watkins (guitarist for Leonard Cohen). She is also the founder of SHE: Survivor Healing and Empowerment, a healing community for survivors of rape, abuse and sex-trafficking. Her work as an artist and activist has been featured in many media outlets, including The San Francisco Chronicle, CBS Radio and Fox News. Visit her website at www.brookeaxtell.com.