EMBRACING YOUR POWER WOMAN
AT MID-LIFE AND BEYOND
by Barbara Wilder

STEP FIVE - THE POWER OF HEALTH & BEAUTY

(Excerpt from Embracing Your Power Woman: 11 Steps to Coming of Age in Mid-Live by Barbara Wilder

"Age is something that doesn't matter unless you are a cheese."
- Billie Burke

You're over the hill." I first heard this expression when I was about eight-years-old. My father said it to a colleague who had just turned forty. Everyone laughed, but under the laughter I could sense an uneasy tension. "Over the hill." A picture flashed through my mind at that moment that I've carried with me ever since of a man hurtling down a grassy hill toward the bottom where a macabre figure of death awaited. As we move into and through menopause, our bodies show signs of aging. We begin to experience aches and pains we never had before. We need glasses for reading. We gain weight more readily. Men experience these signs as well, but women have the additional biological changes of menopause, which bring on hot flashes, irritability, headaches, and memory loss. It's no wonder, with society's conventional "wisdom" and media hype that we assume we're headed down that grassy hill toward death. But this isn't true. We are simply passing from one stage of life to another. We are experiencing the death of our childbearing selves, and the birth of our Power Woman selves. Keeping mindful of this will help us stay healthy both mentally and physically.

As Power Women, we need good health to support our work and our play. We also need to appreciate our beauty. Health -- both mental and physical -- and beauty -- both inner and outer -- are inextricably linked. Good health promotes beauty, and beauty likewise promotes good health. But it is not western society's standards of beauty that we Power Women must concern ourselves with. We will never be twenty again. To try to remain so is a waste of energy we can put to better use.

If we look at some notable Power Woman role models such as Eleanor Roosevelt, Georgia O'Keeffe, Doris "Granny D" Haddock, or Sojourner Truth, we see a different kind of beauty; a beauty born of lives well lived. All three of these women's looks are far from pretty, but they are all strikingly beautiful because they exude strength, determination, integrity, and kindness. This is not to say that a Power Woman cannot be, like Gloria Steinem, fashionable and glamorous. As twenty-first century Power Women in good health, we may change the look of aging, but that must not be our main concern.

HEALTH IS THE KEY

When we were teenagers, health issues were far from our minds. We consumed sodas, hot dogs, hamburgers, and French fries, smoked cigarettes and stayed up until dawn. Health experts are coming to understand that the physical stress caused by the immense hormonal change during adolescence needs to be supported by healthy food, exercise, and plenty of rest. Once we can get youngsters to live healthy lifestyles, we should see a dramatic drop in teen depression and suicide.

Maintaining a basic health plan must be part of every woman's life-long regimen. During the menopausal transition, remaining healthy is all the more important in order to support our Power Woman's dreams, desires, and purpose. Failing health can put a stop to the most determined of us. A good basic health plan includes eating nutritious foods, practicing some form of weight-bearing exercise for thirty minutes at least four times a week, and lowering our stress levels. Sometimes it's hard to keep up. Some days it seems impossible to get out and walk, or to turn away from a hot fudge sundae. If you find sticking with an exercise program too difficult to do alone you may want to join a hiking group, take a dance class, or just gather a group of friends together to walk (Indeed, this may be a great activity to initiate with your Power Woman circle.)

My friends and I often complain that we didn't have to work this hard to stay fit and healthy when we were thirty. We whine about having to do it now. Why can't there be a drug to keep us young longer? Nevertheless, our bodies look and feel better when we walk everyday or go to yoga class or work out at the gym. Yes, it's hard work, but everything worth having takes discipline and effort. A healthy, resonant life is certainly worth working for.

The key to good health is in our attitude toward life. The more we enjoy getting up every morning, the easier it is to eat the right food and get out and exercise. We have to disconnect from the brainwashing media that thrives on fear-based advertising, promoting ever more potent drugs to mid-life Baby Boomers. In a television commercial, a beautiful fifty-something woman who fears heart disease takes a new pharmaceutical to assure that she'll live to dance with her grandson. Article after article promises cancer from taking hormone replacement therapy and osteoporosis from not taking it. According to the media, retirement, grand parenting, and disease are the only options for women in the second half of life. We must unhook from mainstream hysteria and discover our individual body's needs, and our own heart's desires

JUDGING OURSELVES AND OTHERS

Women come in all sizes, shapes, and colors. Our beauty lies in our inimitability and diversity. Our expression of beauty must not be dictated by anyone other than ourselves. As teenagers, this was impossible to understand, but as powerful women in the second half of life it's imperative that we do.

As adolescent girls, we were constantly competing with our peers. Being "in" as a teenager was extremely important. We were trained to judge our sisters. It was the beginning of the "divide and conquer" strategy of the dominator society we lived/live in. Both as teenage girls and grown women, we judge everything from clothes to boyfriends. But most of all we judge physical looks. Judgment of others is judgment of self. Each flaw we find in others simply mirrors the flaws we see in ourselves. Each time a teenage girl judges her sisters, she becomes more firmly entrenched in her own insecurities; insecurities she will carry for years. Even into her menopausal years. It's time to break the cycle.

Here is a mantra that you can practice.

"Watch without judgment and there is peace."

Saying this ten times a day, especially when you find yourself judging a sister or yourself, will help break this lifelong pattern. Notice how you feel after you say it.
QUESTIONS TO PONDER
- Did you consider yourself pretty as a teen?
- Did anyone ever tell you were unattractive when you were a teen?
- What were your best physical attributes as a teen? Your worst?
- Did you have large, medium, or small breasts as a teen? Were you ashamed of your breasts? Why?
- Was there one girl or group of girls who treated you badly when you were a teen? If so, what did they do or say that was hurtful?
- Do you think you carry any insecurity from your teen years about your beauty today?
PASSION, PURPOSE, AND LONGEVITY
Women who have found passion in the second half of life tend to live long productive lives. A Power Woman feels the passion of her purpose welling into her heart and spilling into all facets of her life. Whether your passion is for art, politics, science, ecology, spirituality, healing, teaching, it is the passion that will make whatever you do worthwhile for both yourself and the people and the world around you. Being a worthwhile part of your world, making a positive difference, gives your immune system a huge boost. A fulfilled and joyous heart promotes holistic health.
Although the life expectancy in the nineteenth and early twentieth centuries was fifty years, the most prominent women in the anti-slavery and women's suffrage movements lived much longer. Harriet Beecher Stowe and Susan B. Anthony lived to be eighty-six; Sojourner Truth and Elizabeth Cady Stanton lived to be eighty-seven; Julia Ward Howe died at ninety-one; and Harriet Tubman expired at the grand old age of ninety-three. Most of these women worked right up to their deaths, driven by the passion of their mission. They faced immense adversity, some of them starting life as slaves, others jailed for their beliefs. Whatever their hardships, their sense of purpose gave them the grit to continue.
As you focus on your health, give your imagination free reign to explore what you might do with the rest of your life. When you come upon an idea, journal about it, and then listen to your heart. Does this idea fuel your passion? If so, you're on the right track.
***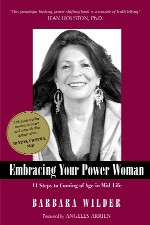 Barbara Wilder is an internationally acclaimed author, teacher, and healer. She is the author of Embracing Your Power Woman: 11 Steps to Coming of Age in Mid-Life and Money is Love: Reconnecting to the Sacred Origins of Money. A former actress, screenwriter, and film production executive, Wilder is a master teacher of light-energy healing and growth techniques and meditation. She currently lives in Boulder, Colorado, where she writes, teaches, and maintains her practice as an transformational therapist and light energy healer. She is the founder of The Transformational Light Center there. For more information on Barbara and her work, please visit her website www.BarbaraWilder.com.
Copyright © 2006 by Barbara Wilder