EMBRACING YOUR POWER WOMAN
AT MID-LIFE AND BEYOND
by Barbara Wilder

STEP EIGHT - THE POWER OF PARTNERSHIP & COMMUNITY

(Excerpt from Embracing Your Power Woman: 11 Steps to Coming of Age in Mid-Live by Barbara Wilder

"Know the strength of a man, but keep a woman's care! Be the stream of the universe."
- Tao Te Ching

Women have mixed feelings when it comes to working and playing in community -- especially with other women. But being in community is our natural state, and comes from our cellular memory of ancient ancestors sitting together in red tents and moon huts, creating a synergy of feminine power to use constructively for the good of the tribes. But having been trained as enemies over the past few millennia, we now often find ourselves simultaneously yearning and shying away from the community of women. Yet we are most authentic working with other women. We love gathering in circles to tell each other our stories. In recent history, women have come together to make quilts, or tear bandages for war efforts, or to organize church socials. Today, many women are joining simply to rediscover the pleasure of each other's company. When women sit together, we chat. And when women chat, we can, once we move from gossip to more serious concerns, come up with inspired solutions to problems facing our communities and ourselves. We learn best when we are gathered together and share what we know.

Women formed the original communities and we also make great partners. We understand innately how to share. We know what it means to take a front seat at times and a back seat at others. Unfortunately, when it comes to relationships with men, we have not had enough opportunity to be equal partners. Recently, however, more and more men are softening to the idea and many are actively working on becoming more loving and generous partners. The trick to meeting an equal partner or helping our current partners become more equal is finding our own inner balance.

QUESTIONS TO PONDER
- Have you ever felt frustrated or angry about not being considered an equal partner?
- Do you like to work in a communal atmosphere? Why? Or, why not?
- If you have a life partner now, is there anything you would change in your relationship?

THE YIN AND THE YANG OF IT

To become partners in truly balanced relationships, be they in love, business or other of life's endeavors, we must develop a balanced and harmonious relationship within our own nature. As women, we have been harmed greatly by the servile role we have been forced to play throughout history. Though we have made great steps in the past century and especially during the last forty years, we still have much to heal within society and ourselves.

Each of us has both a feminine and a masculine side, and as we learn to love both the Yin and Yang of our own personalities, we will be able to embrace both with equal enthusiasm.

Although all people carry feminine and masculine energies, for women, the feminine nature is more fully developed in the first half of life for the simple reason that our biological purpose is to bear children. But as we move out of the childbearing years, we have the opportunity to develop our masculine natures more fully, so that we can stand more equally balanced within ourselves.

DISCOVERING OUR MASCULINE/DYNAMIC SIDE

I began having hot flashes very young, at forty. My first were in a chateau in northern France in a town that legend says was the home of Sir Lancelot. This became more interesting to me later on in my menopausal journey, because what I began to discover shortly after that first hot flash was the emergence of my masculine or Yang, energy. Just before returning home from Europe, I saw the musical Cats in London. The character of the Rock and Roll Cat fascinated me. I couldn't get him out of my mind. This cat was a very sexy, male cat, who played in a rock band, and had all the characteristics of a rock star: self-assured, swaggering, a seductive rogue. He appeared in my daydreams and my sleeping dreams. I was single, so I just assumed this was some necessary fantasy to get me through a time without a boyfriend. But what it turned out to be was far more interesting.

I was still enamored with the Rock and Roll Cat, when I arrived back home in Los Angeles and saw a concert movie, Bring on the Night, featuring Sting and his band. Most of the film was shot in a chateau outside Paris, reminiscent of the location of my first hot flash. That night, the Rock and Roll Cat disappeared from my dreams and Sting took his place. I saw the movie five times. I took all my girlfriends to see it. I began to obsess over the movie and its star. When I grasped that I was falling in love with Sting, I was more than a little embarrassed. I hadn't had this kind of intense feeling for a celebrity since adolescence. Working in theatre and the film industry most of my life, I knew too much about stars to be seduced by them. But suddenly there I was, a forty-year-old, peri-menopausal woman head-over-heels for a rock star. Then the ultimate happened, my neighbor got me a copy of the video. Once I had Sting in my apartment alone, I had to look deeply at what was really going on with me, and what I discovered was amazing.

One evening, while sipping a glass of excellent chardonnay and watching Bring on the Night for probably the tenth time, it occurred to me. Sting and the Rock and Roll Cat had captured my heart, because they were reflections of my own newly developing masculine energy. I wasn't in love with a rock star. I was in love with my young, vibrant, emergent, inner male self.

Before I go further I want to make it clear that the development of a woman's inner masculine self, is not the same as imitating men, which so many of us did and do in the world of business. Rather, it is about opening to that vigorous Yang (which translated is "Flags flying in the sun.") part of our personalities cupped in the grail of our feminine bodies and consciousness. As I learned in retrospect, my feelings about Sting were not about Sting per se, but only the Sting as portrayed in this particular documentary. This film is about the creation of an artistic community, Sting's new band. It shows the beauty of artists working in community to create a particular piece of art. Then in the film's final act, at the end of the band's first concert performance, Sting's partner, Trudie Styler, goes into labor. We watch Trudie giving birth, Sting at her side, his voice in the background singing "I Hope the Russians Love Their Children Too". This was 1985 and a film with a man in a delivery room was still relatively unusual.

For me, the film's most powerful moment comes as Sting is being interviewed off-screen about the delivery while we watch the baby taken from Trudie's womb and laid on her tummy. "It's easy to come in after the fact, and they're all clean in their white nightgowns and their hair brushed," Sting tells the interviewer. "The reality is much more bloody and profound."

"Much more bloody and profound." That line opened a whole new world for me. As women in the second half of life discovering our masculine Yang energy, we concurrently gain a deeper appreciation of our feminine Yin energy. In retrospect, I recognize that the birth of Sting's son was also a foreshadowing of the birth of my new inner yang self.

Once I understood that I wasn't in love with Sting, but with my own developing male energy I begin to explore a love affair with myself. I meditated on it daily, and allowed myself to give up to the turbulent feelings that churned inside of me. It was a luscious time. Gradually I stopped thinking about Sting altogether and became aware instead of a serene balance trickling, then flowing through me. I walked a little differently. I stood taller. I spoke with more self-assurance, and I was generally a more balanced human being.

This new time in our lives is about discovering and embracing our inner love affair. Finding a partnership within that is so balanced and so fulfilling, that we can step out into the broader community of others with assurance and grace.

QUESTIONS TO PONDER
- What was your first experience with hot flashes?
- Is there one particular male celebrity who touches your heart?
- Do you spend time being intimate with yourself?

WORKING IN COMMUNITY

"Community means strength that joins our strength to do the work that needs to be done."
-- Starhawk

Working in community is the very basis of the female process. Ancient people danced, sang, made music and created dramas as part of their worship. Communal ceremonies brought the tribe together with each other and the gods. Being in community, working, playing, celebrating, grieving, and praying engenders a feeling of well being in us all. Human beings are one family. A sacred tribe. It is my belief the more time we spend in loving community, the better we become as people.

Working in community is crucial for Power Women. Volunteering for community projects is a wonderful way to interact with others and bring our Power Women skills and ideas to the greater group. I don't advocate volunteer work instead of paid work, but in addition to paid work. Our communities need our input, and you just may find that while doing the volunteer work you will find the next step on your path toward your purpose. As Power Women, we can begin to create communities that can reshape our world.




***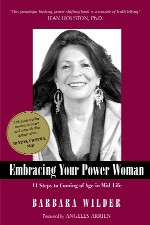 Barbara Wilder is an internationally acclaimed author, teacher, and healer. She is the author of Embracing Your Power Woman: 11 Steps to Coming of Age in Mid-Life and Money is Love: Reconnecting to the Sacred Origins of Money. A former actress, screenwriter, and film production executive, Wilder is a master teacher of light-energy healing and growth techniques and meditation. She currently lives in Boulder, Colorado, where she writes, teaches, and maintains her practice as an transformational therapist and light energy healer. She is the founder of The Transformational Light Center there. For more information on Barbara and her work, please visit her website www.BarbaraWilder.com.
---
I would like to extend an invitation for you to join me at one of my upcoming workshops. One is on the West Cost at Esalen Institute in Big Sur, California (Aug 26-31), and the other is on the East Coast at Omega Institute in Rhinebeck, NY (Oct. 7-12). Here's the information:
ESALEN INSTITUTE - A 5-DAY INTENSIVE WORKSHOP: EMBRACING YOUR POWER WOMANAugust 27 – 31, 2007To learn more about Esalen and to register, click here www.Esalen.org then type in EMBRACING YOUR POWER WOMAN in the workshop Box.
This workshop will help you discover your power, creativity, and valuable purpose in the second half of life. Using the tools of meditation, journaling, interactive discussions, and games, you will explore the urges you feel at mid-life to change your life. You will reconnect with your teenage self to re-discover the unfulfilled dreams that hold the seed of your Power Woman purpose. And you will learn to embrace your beauty, your wisdom, and step up to make a difference in the world.
OMEGA INSTITUTE – A Five-Day Intensive Workshop: MONEY IS LOVE: Reconnecting to the Sacred Origins of Money
October 7 - 12, 2007
To learn more and to register click here www.Eomega.com then click on FACULTY, scroll down, click on Barbara Wilder, and then click on Workshops. (To learn more about Barbara's approach to money read her archived column here at Feminist.com, STEP SIX - THE POWER OF TRUE WEALTH
This workshop teaches how to heal the wounds that keep you from knowing that you are a magnificent child of the universe who deserves all the wondrous abundance the world offers you. Barbara will teach you the difference between wealth based on fear, and true-wealth based on love and prosperity for all. You will learn specific meditation and journaling techniques that will give you the power to transform your own life and begin to live a life of peace, joy, and prosperity.
And then the workshop will go further. Barbara will introduce you to the exciting new message that MONEY IS LOVE. You will learn how to transform all the money that moves abundantly through your life into love that can help create global healing, peace, and prosperity.
Copyright © 2007 by Barbara Wilder