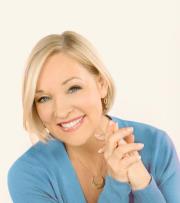 What would your life be like if you learned how to respect your body as though it were a precious creation - as valuable as a beloved friend? What if you no longer lived in fear of germs or cancer? What would happen if you truly trusted your body's messages?
Noted author and visionary Dr. Christiane Northrup asks us to ponder these questions because she finds that lasting health and wholeness are only possible when we discover and practice behaviors associated with true health and wholeness. And she believes that the time to listen to our body's wisdom is now!
The purpose of this column is to help you see that once you engage your own inner wisdom, you can change or improve your habits of thought, your emotions, and your health, and create a more positive and joyful life experience right away. Dr. Northrup says, "This process, when engaged in regularly, heals both your present and your future."
***
Christiane Northrup, M.D., a board-certified ob/gyn, is a visionary pioneer, beloved authority in women's health and wellness, and the author of the ground breaking New York Times bestsellers Women's Bodies, Women's Wisdom and The Wisdom of Menopause. Following a 25-year career in both academic medicine and private practice, Dr. Northrup devotes her time to helping women truly flourish. Follow Dr. Christiane Northrup on Facebook, Twitter, at www.drnorthrup.com, and by listening to her weekly Hay House Internet radio show Flourish!
Newest Column Entry:
The Wisdom of Menopause: The Promise of Transformation & Healing
Past Columns:
Please note: Dr. Christiane Northrup does not dispense medical advice or prescribe the use of any technique as a form of treatment for physical or medical problems without the advice of a physician, either directly or indirectly. In the event you use any of the information for yourself, neither Dr. Christiane Northrup, contributors to this article, nor the publisher accepts responsibility for your actions.