| | | |
| --- | --- | --- |
| | | See another section in Articles & Speeches |
"Miss Representation"—Poised to Advance a Media Movement

by Marianne Schnall
The following article originally appeared at The Women's Media Center
Tonight is your chance to see a documentary on Oprah's OWN network that takes on the disparagement of women and girls in the media in a comprehensive way. Marianne Schnall talks to filmmaker Jennifer Siebel Newsom.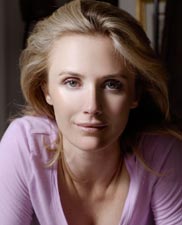 We tend to pay attention to negative media treatment of women and girls only as isolated incidents spark an outcry—a sexist statement by an on-air commentator, a skeletal model on a magazine cover, a controversial advertising campaign. The full scope of the problem, and its dire implications for our democracy and our planet, rarely rates a national discussion.
That may change, with the premiere of filmmaker Jennifer Siebel Newsom's groundbreaking new documentary "Miss Representation," which airs on Oprah Winfrey's OWN network tonight (Thursday October 20). The film features insights from an impressive array of influential women and men (including Women Media Center founders Jane Fonda and Gloria Steinem and former WMC presidents Carol Jenkins and Jehmu Greene). It powerfully makes the case that the media's limited and often disparaging portrayals of women and girls is not only at the root of such rising epidemics as eating disorders, self-mutilation and depression in teenage girls, but is largely responsible for the glaring under-representation of women in all positions of power and influence in America.
The film underscores the disempowering message that the media sends to young girls: that a woman's value lies in her youth, beauty, and sexuality, not in her true voice or her capacity to lead. What Jane Fonda calls a "toxic hyper-sexualization of young girls" and airbrushed images everywhere make the ideal of beauty ever more impossible to achieve. And women and girls seem to internalize these harmful messages in such a subliminal way that we tend to become passive and apathetic.
Jennifer Siebel Newsom—a former actress who was once told by her agent to hide her age and her Stanford MBA—tackles these issues in full force through her film and a corresponding social action campaign. As the documentary's writer and director, Siebel Newsom elicits stories from teenage girls, insights from activists and academics, and anecdotes from politicians (such as Condoleezza Rice, Nancy Pelosi, Dianne Feinstein, Cory Booker) and media stars and entertainers (Katie Couric, Rachel Maddow, Geena Davis, Margaret Cho, Rosario Dawson). The interviews intermix with shocking images and a bombardment of thought-provoking statistics. To give just a few examples: the United States ranks 90th in the world in women's representation in national legislatures; 65 percent of American women and girls have an eating disorder; rates of depression among women and young girls have doubled in the past ten years; cosmetic surgeries performed on youth 18 or younger more than tripled from 1997 and 2007; and 15 percent of rape victims are girls under the age of 12.
As a teen, Siebel Newsom herself fell victim to sexual assault, and she talks in the film of suffering from low self esteem and eating disorders. Another factor in making the film was her sense that "injustice towards women in the media has worsened over time with the 24/7 news cycle and the advent of infotainment and reality television." She also was disturbed by the often misogynistic treatment of Hillary Clinton and Sarah Palin during the 2008 presidential campaign and of the first female speaker of the House, Nancy Pelosi. Closest to home, Siebel Newsom was ultimately "compelled" as a mother of a young daughter to make the documentary. She dreams of a better future for her daughter, in a culture that doesn't "demean and degrade and disrespect women on a regular basis." She hopes the documentary and action campaign can point to "a path that recognizes and empowers women and girls."
Siebel Newsom says she made a point to include men in the film, saying that having just given birth to a son, she finds herself "particularly concerned about the culture that he's being raised in, and the kind of man he's going to be." She says, "the media is this huge pedagogical force of communication—it's dictating our cultural values and our gender norms." She adds, "What unfortunately happens is girls and boys buy into this belief system, this construct, and then boys continue to perpetuate it, by objectifying women and not valuing women or giving them the seat at the table." The men in the film are some of its most outspoken advocates and allies. Siebel Newsom's husband, Gavin Newsom, the lieutenant governor of California, says in the film that he makes a point of appointing women to high positions. "If people knew that Cuba, China, Iraq and Afghanistan have more women in government than the United States of America," he says "that would get some people upset." Newark's Cory Booker speaks from his point of view as mayor of a struggling and rising city: "We're shortchanging voices that are urgently needed in public forums from ever getting to the table." Siebel Newsom underscores Booker's point, citing research proving "that the more diversity and more women you have in leadership, both in government and business, the greater the productivity, the creativity and the bottom line. We need to get women into the pipelines."
Adding to the scope of the problem is another crack in the pipeline—women currently hold only 3 percent of clout positions within the mainstream media industry itself. At last week's East Coast premiere of "Miss Representation" at the Paley Center for Media in New York City, Pat Mitchell, president of the center and also in the documentary, led a spirited panel that included Christiane Amanpour, who confessed she found herself "enraged" by the film. Lamenting that many women newscasters today "are forced to wear skirts and v-necks down to here," she also called it an "outrage" that, given "so many competent and brilliant" women, "there is still no female head of a television news network."
In "Miss Representation," Katie Couric says she did see her role as the first solo female anchor of a network TV evening news program as an "opportunity to mix it up a little," to send the "message that a woman could be as confident as a man in an important, powerful role." However, the film discusses how much of the media coverage about Couric at that time focused on what she was wearing or her dating life, or, later, pitting her against another female evening news anchor, Diane Sawyer. Observes Couric, "whenever there are two women who are working in similar professions, it's automatically positioned as a catfight." Another important thread throughout the film focuses on the need for women to support, encourage and mentor each other, to work against a climate that would have them do otherwise.
Siebel Newsom is hoping that "Miss Representation" will spark thoughtful dialogue on these pivotal issues and that "the discussion turns into action around valuing women in our culture." In addition to asking people to sign a pledge to "spread the message," the MissRepresentation.org web site offers a host of resources, actions and tips on creating change. They also have embarked on an ambitious campaign to distribute the documentary and its educational curriculum to schools and libraries, believing that a critical part of the solution will be in helping younger generations become media literate. Ultimately Siebel Newsom says her biggest hope and faith lies in each one of us learning "to recognize our own unique power. I want women to remember that we are 86 percent of consumers, and so we have a choice. We need to support good media, healthy media."
Jennifer Siebel Newsom is hopeful. "At the end of the day, I think once we start valuing women, and valuing the feminine, you're going to see a huge cultural transformation. So that's really my goal."
"Miss Representation" premieres on OWN (Oprah Winfrey Network) on October 20, 2011, at 9pm EST/MST/PST (8pm Central), followed by a one-hour special with Rosie O'Donnell in which Jennifer Siebel Newsom and guests, including WMC's Gloria Steinem and Carol Jenkins, will highlight the film's call to action. Find out more at MissRepresentation.org.
To read the full interview with Jennifer Siebel Newsom, as well as additional insights from many of the people featured in the film, click here.
The above article originally appeared at The Women's Media Center
Related links:
---
Marianne Schnall is a widely published writer and interviewer. She is also the founder and Executive Director of Feminist.com and cofounder of EcoMall.com, a website promoting environmentally-friendly living. Marianne has worked for many media outlets and publications. Her interviews with well-known individuals appear at Feminist.com as well as in publications such as O, The Oprah Magazine, Glamour, In Style, The Huffington Post, the Women's Media Center, and many others. Her new book based on her interviews, Daring to Be Ourselves: Influential Women Share Insights on Courage, Happiness and Finding Your Own Voice came out in November 2010. You can visit Marianne's web site at www.marianneschnall.com