Presented by Feminist.com's FemSalon Series
Note: This event has passed - see videos and pictures from this event.
New! Videos From "Our Inner Lives" FemSalon:
Our Inner Lives 2013: Highlights (video)
Marianne Williamson (video)
Multi-Faith Panel Discussion (video)
India.Arie: I am Light (video)
India.Arie: Break the Shell (video)
Sister Joan Chittister: Spirit, Faith & Action Award recipient (video)
KEYNOTE:
Marianne Williamson
Featuring keynote speaker Marianne Williamson, with an introduction by Gabrielle Bernstein
MUSICAL PERFORMANCE:
India.Arie
Performance by Grammy-award winner, India Arie
MULTI-FAITH PANEL DISCUSSION
A multi-faith panel moderated by Elizabeth Lesser, featuring India Arie, Chung Hyun Kyung , Maria Ebrahimji, Rabbi Jill Hammer, Helen LaKelly Hunt, and Rev. Jacqui Lewis (with an introduction by Jamia Wilson)
AWARDS: Sister Joan Chittister
The presentation of our first Spirit, Faith & Action award to Sister Joan Chittister

Join us for an evening of groundbreaking conversation and celebration. Speakers and guests representing diverse perspectives will reflect on the transformational quality of their spiritual experiences, as well as the challenges they continue to face on their faith and feminist journeys. We will explore strategies and exchange stories on ways to connect and hear one another across beliefs and traditions. Together, recognizing our interdependence with each other and the earth, we can translate our compassion into tangible paths to positive change in the world.
Click here for presenter bios >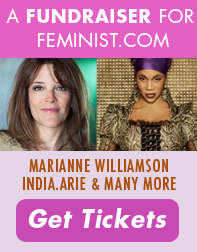 This event has past - see videos and pictures from this event
THIS EVENT IS A FUNDRAISER
*Funds raised from the evening will support Feminist.com and Feminist.com's web initiative, Our Inner Lives.

Feminist.com is a 501(c)(3) non-profit organization that has been empowering women and girls since 1995.
Special thanks to Feminist.com sponsors The Eileen Fisher Community Foundation, Wello and Women on Fire