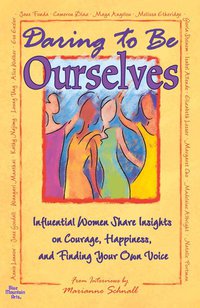 "From a lifetime of interviewing diverse women, Marianne Schnall has chosen quotations that address big questions, then clustered them around turning points in life. Daring to Be Ourselves is a gift, a joy and a rescue."
-- Gloria Steinem
"Daring to Be Ourselves is lovely and useful and true."
-- Alice Walker


About the Book
In Daring to Be Ourselves, freelance journalist Marianne Schnall brings together the most inspiring and empowering quotes from her interviews with many of the world's most interesting and influential women. The result is a compelling collection of insights and words of wisdom on a variety of important issues, including equality, overcoming adversity, aging, finding balance in life, taking care of the earth, and more. Thought provoking, enlightening, and even humorous at times, this book is a valuable resource for women and girls everywhere.


Daring to Be Ourselves offers inspiring words from these amazing women:
Madeleine Albright * Isabel Allende * Maya Angelou * Sandra Bernhard * Margaret Cho * Cameron Diaz * Eve Ensler * Melissa Etheridge * Jane Fonda * Carol Gilligan * Jane Goodall * Charreah Jackson * Annie Lennox * Elizabeth Lesser * Wangari Maathai * Courtney Martin * Pat Mitchell * Kathy Najimy * Natalie Portman * Gloria Steinem * Loung Ung * Alice Walker * Kerry Washington * Betty Williams


About the Author
Marianne Schnall is a widely published journalist whose interviews with well-known individuals have appeared in publications such as O, The Oprah Magazine, Glamour, In Style, The Huffington Post, Entertainment Weekly's website EW.com, the Women's Media Center, and many others. She is the founder and executive director of Feminist.com, a leading women's website and nonprofit organization, and cofounder of EcoMall.com, an environmental website promoting earth-friendly living. Through her writings, interviews, and websites, Marianne strives to raise awareness and inspire activism around important issues and causes.
Available in bookstores and online at Amazon.com and BarnesandNoble.com
ISBN 978-1-59842-532-1 * Trade Paperback, $13.95 Retail *
Published by Blue Mountain Arts
Visit the Daring to Be Ourselves web site:
www.daringtobeourselves.com

Press about Daring to Be Ourselves:
A Return to Sisterhood (by Stephanie Hallett, Ms. Magazine Blog)
Marianne's writings and interviews:
Inspiring Conversations
Huffington Post Blog
Women's Media Center articles
More writings and interviews


Follow Marianne at Twitter at www.twitter.com/marianneschnall
Follow "Daring to Be Ourselves" on Facebook
E-mail Marianne
Visit the "Daring to Be Ourselves" web site at www.daringtobeourselves.com
Visit Marianne's web site at www.marianneschnall.com
Stay tuned for more news, events and updates!