---
NEWS ALERT: Violence Against Afghan Women on the Rise

Over the past few months, the world has been shocked by numerous cases of abuse against Afghan women. Some of these brave women have been able to stand up and demand justice, women like Gulnaz, who was sentenced to 12 years in prison for "adultery" after she was raped by her cousin, and Sahar Gul, a 15-year-old bride who was tortured by her husband and in-laws for refusing to prostitute herself. Others like Storai, a young mother of three girls who was killed by her husband for not bearing him a son, will never see their abusers brought to justice. For every story that is reported, there are thousands of women who suffer abuse unnoticed. And studies show those numbers may be on the rise.
In 2009, the Afghan government passed the Law on the Elimination of Violence Against Women, outlawing 22 forms of violence such as rape and child marriage. Since then, the law has not been evenly implemented. Only 4% of reported incidents of violence against women have been prosecuted under this law. Thousands of incidents are never reported. Without basic security, women's other rights - to education, to employment, to political participation, to freedom of movement - will never be guaranteed.
Take Action Today!
Since 2002, Women for Women International has worked with over 33,000 women in Afghanistan, many of whom have been victims of violence. Through our year-long program, women are made aware of their rights and provided vocational and business skills training so they have the opportunity to become healthy, active citizens in their communities. And because violence against women is not just a women's issue, we have trained over 400 mullahs on the importance of ending violence against women and how protecting women's rights benefits the entire community. With their position of leadership in the community, the mullahs have been able to engage other men and build their awareness and influence their attitudes regarding women.
With your support, Women for Women International can touch the lives of thousands more Afghan women. When a women participates in our program, she gains the tools and resources she needs to move from victim to survivor to active citizen. Together, we can help Afghan women end the cycle of violence and build a better future for themselves, their families, and their communities!
Donate Now
Previous "Stronger Women, Stronger Nations" Columns:
International Women's Day 100 Years On: An Urgent Call to Action for Women's Rights in Afghanistan by Zainab Salbi
Spotlight on the Struggle of Birtukan Mideksa: Ethiopian Human Rights Activist in the Global Women's Movement by Zainab Salbi
---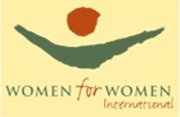 Women for Women International is an international non-profit organization dedicating to providing women survivors of war, civil strife and other conflicts with the tools and resources to move from crisis and poverty to stability and self-sufficiency, thereby promoting viable civil societies. To learn more about the organization and how to sponsor a woman in a war torn country visit: www.womenforwomen.org